Welcome to On The Tee Online
Read the Latest Updates from our On The Tee Review Team
This week's featured courses and happenings!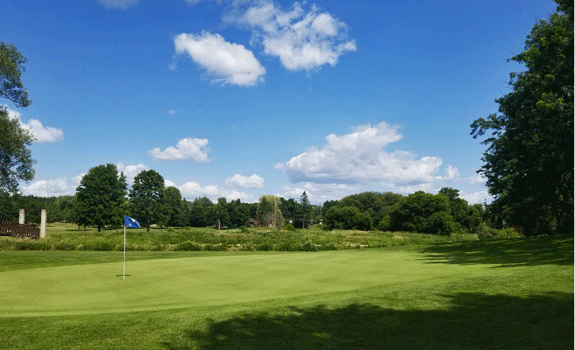 Conestoga Golf Club
A Grand River Golf Experience:
A drive through rural Waterloo Region is sure to lead to a contact with one of the many horse-drawn carriages used by the thriving Mennonite community. The early 1800's saw an influx of Pennsylvania Mennonites settling the banks of Grand River. The village of Conestogo, a little north of the City of Waterloo and due east of the St. Jacobs, was one of the communities built by the immigrants. The once thriving mill town is now a quiet suburban enclave to the Kitchener-Waterloo urban sprawl and home to a fun 27 hole golf and conference center.
Rugged, Challenging with Strong Family Values
A long time favorite of many in York Region, Pheasant Run Golf Club, offers one of the more visually remarkable golf experiences in Southern Ontario. Cut from dense hardwood forests atop the Oak Ridges Moraine, the facility has a secluded feel to it, yet is only minutes from the sprawling suburbia of the 404 corridor. Located just east of Newmarket on Warden Avenue, this Rene Muylaert design is as close to wilderness golf as you can find in the GTA.
New Hampshire's Historic Routing, Bretton Woods, NH
New Hampshire's Omni Mount Washington Hotel in Bretton Woods is one of New England's most celebrated and historic hotels. Complimenting the grand history of the hotel is a pair of golf experiences equally as grand. The 1915 Donald Ross's 18-hole championship Mount Washington Course may receive the lion's share of attention at the resort, however, it is not the only course of historical significance at the resort and it is also not the oldest layout on property.
Pinehurst's Private Side Part 1, North Carolina
In part one of of our Pinehurst Private Side feature we wake a look at the golf courses of Pinewild Country Club. This member owned facility is located in the heart of Pinehurst, North Carolina and offers two championship courses, a nine hole par three course, three practice holes and short game complex at the Golf Academy facility, four Har-Tru tennis courts and a 25-meter Olympic swimming pool.
Cobble Beach Golf Links, Kemble, Ontario
When philanthropist and businessman Willis McClesse purchased a 574 acre parcel of stony, sharply sloped shoreline near Owen Sound in the late 90's, the grand vision to create a world-class residential and resort golf community was born....
The Cradle at Pinehurst Resort, North Carolina
The most recent addition to the Pinehurst Resorts collection of courses is The Cradle. The newly minted nine hole short course is the brainchild of course architect Gil Hanse and Pinehurst owner Bob Dedman...