Welcome to On The Tee Online
Read the Latest Updates from our On The Tee Review Team
This week's featured courses and happenings!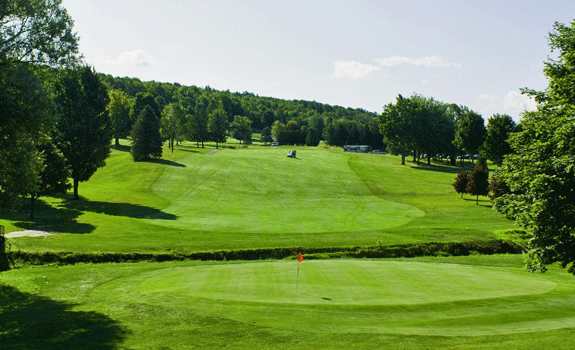 Byrncliff Golf Resort
A Western New York Favorite:
Buffalo has a unique place in the lives of many Canadians. The city is the launching point for shopping trips, vacations both on the road and in the air and has a wonderful sporting culture that draws thousands of us Canucks to the Queen City each year. We all have a Buffalo story to tell, from the great deal at the outlet malls, to enjoying a tailgate party at an NFL game. Our family is no stranger to Buffalo and when the Bills pre-season rolled around, we decided it was time to reacquaint with our beloved herd of football heroes. Taking the opportunity to partake in another sporting passion on the excursion was a welcomed addition to the itinerary.
Airport Golf Experiences
Whether you are taking a summer vacation or enjoying a get-away during the holiday weeks at other times of the year, a golf outing can be a great addition to any trip. Having spent considerable time in the air over the years, one of the first things I look for is the nearest golf course to my destination airport. If I'm on a golf junket, a warm-up round is a great way to refresh after a lengthy flight, while sneaking in a few holes before departure is as good a way to clear your mind of the anxiety of what is to come on your flight.
Arrowhead: A Buffalo Area Beauty
The Western New York region has a wide variety of golf to offer. An invitation to play in a charity event just outside the city opened my eyes to a quality design and fun day of shot making. Arrowhead Golf Club was opened in 2003 and has rightfully become regarded as one of the region's premiere public golf courses. Local architect Scott Witter crafted a windswept routing from gently rolling terrain just west of the Town of Akron. The easily walkable design embraces a natural feel, utilizing what Mother Nature provided and enhanced with subtle mounding and strategically placed ponds.
New Hampshire's Historic Routing
A long time favorite of many in York Region, Pheasant Run Golf Club, offers one of the more visually remarkable golf experiences in Southern Ontario. Cut from dense hardwood forests atop the Oak Ridges Moraine, the facility has a secluded feel to it, yet is only minutes from the sprawling suburbia of the 404 corridor. Located just east of Newmarket on Warden Avenue, this Rene Muylaert design is as close to wilderness golf as you can find in the GTA.
Pinehurst's Private Side Part 1, North Carolina
In part one of of our Pinehurst Private Side feature we wake a look at the golf courses of Pinewild Country Club. This member owned facility is located in the heart of Pinehurst, North Carolina and offers two championship courses, a nine hole par three course, three practice holes and short game complex at the Golf Academy facility, four Har-Tru tennis courts and a 25-meter Olympic swimming pool.
Cobble Beach Golf Links, Kemble, Ontario
When philanthropist and businessman Willis McClesse purchased a 574 acre parcel of stony, sharply sloped shoreline near Owen Sound in the late 90's, the grand vision to create a world-class residential and resort golf community was born....
The Cradle at Pinehurst Resort, North Carolina
The most recent addition to the Pinehurst Resorts collection of courses is The Cradle. The newly minted nine hole short course is the brainchild of course architect Gil Hanse and Pinehurst owner Bob Dedman...
Pinehurst Number 4, North Carolina
The recent renovations by Gil Hanse have transformed Pinehurst Resort's historic Number 4 course into a golf destination itself.