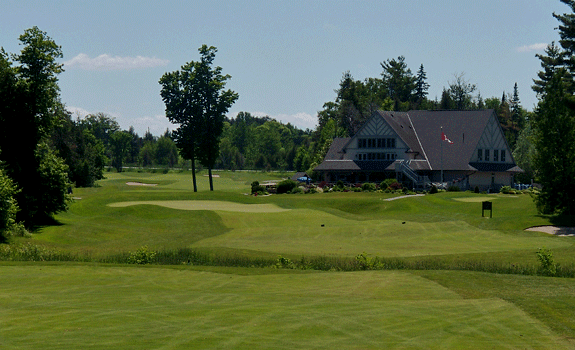 Beautiful Hole 9 and Clubhouse

National Pines Golf Club:
A Central Ontario Favorite for Nearly a Quarter Century.
Posted by: Rick Parnham
With over a dozen courses surrounding Barrie, Ontario, the area is consistently mentioned as a hotbed for terrific golf.  Long considered one of the premier facilities in the city, National Pines is highly acclaimed and for very good reason. This Tom McBroom park-land layout is cut from thick hardwood and pine forests and routed creatively over and around Lover's Creek with wetlands and waterways forming hazards on many of the holes. Designed to challenge even to most skilled players, National Pines is a stern test from any of the five sets of tees. Playing it forward is a good idea on this true championship test.

Hole 15 Green
Located at the corner of 10 Sideroad and McKay Road in south Barrie, the course is surrounded by farmlands offering serene views from the windswept fairways without the spoils of backyards and traffic. The gently rolling property provides a very walkable experience and is centered around a charming post and beam-style clubhouse, complete with a beautiful porch overlooking both the putting green and many of the course's holes.  This challenging host of the Canadian Tour Championship in 2007 and 2008 and Ontario Amatuer is 1995, is a member of the ClubLink family of courses and one of the true jewels in the collection. 
Location: Barrie, Ontario
Editor's Shot Maker's Picks: National Pines
| | | | | |
| --- | --- | --- | --- | --- |
| Featured Holes | Hole 3 | Hole 4 | Hole 7 | Hole 15 |
| Par | Par 4 | Par 4 | Par 4 | Par 4 |
| Black | 442 | | 356 | 361 |
| Gold | 423 | 435 | 346 | 353 |
| Blue | 402 | 415 | 332 | 325 |
| White | 340 | 302 | 293 | 308 |
| Red | 312 | 274 | 268 | 279 |
| HCP-Men | 3 | 1 | 13 | 10 |
| HCP-Women | 5 | 13 | | 6 |
One of the stronger tests of golf in Central Ontario, there are many holes worthy of mention in our shot-makers collection. The short holes all play tough with water being a penal challenge on 3 of them. The par 5 holes all feature something different, ranging from doglegs to considerable elevation changes to a Biarritz-style green; this quartet will require deft play to navigate with a clean scorecard. However, the true strength of this golf course is found in its par four holes. After a gentle start on the first couple of holes, perhaps the most difficult test begins on the third tee. The gentle dog leg par four is framed on both sides by thick forest and OB. Having to thread a drive between the trees will leave you with a difficult approach to a pushed-up, heavily contoured and sloping green. A back right pin is flat out nasty. The challenge doesn't let up as you walk to the next tee deck. The fourth hole is another beastly par four, this time with a considerable forced carry over wetlands that run all the way down the right to the green. The landing area is a ribbon of fairway sloping down to the hazard. A large two-tiered green, divided by a ridge, is the target for the approach. It may be hard to match this difficult duo for challenge and demanding shot-making.

Tricky Hole 3
The seventh and 15th holes are a pair of strategic risk / reward holes that place premium on courage. The sharp dogleg left seventh hole plays uphill and tempts you to try to drive the green. The smart play is to lay-up with an iron or hybrid aiming for the corner of the dogleg. This comfortable distance is the perfect wedge yardage for attacking the pin. The small, well protected green is filled with slope and requires an exacting deft touch. Hole 15 is a terrific example of a short par 4 that can be played two completely different ways; both filled with risk and huge reward should a perfectly executed plan unfold. The more conservative route requires a formidable drive to get to the end of the fairway on the left, avoiding a thicket that blocks out any look at the green. The alternative is to take aim across a vast wetland to the upslope and long narrow green. Either route will strike question in your ability and mettle.
Course Stats:
| | | | |
| --- | --- | --- | --- |
| Par 72 | Yardage | Rating/Slope-M | Rating/Slope-F |
| Black | | 74.0 / 148 | |
| Gold | | 72.0 / 144 | |
| Blue | | 70.5 / 137 | |
| White | 5496 | 67.0 / 125 | |
| Red | | 64.5 / 115 | |
National Pines has long been a favorite course for Central Ontario golfers. The artful design crafted by one of Canada's preeminent architects is filled with challenge and shot making demands. A chance to test your game at National Pines will surely leave you wanting another crack at this Barrie area beauty.
Driving Distances: Toronto Pearson 45 mins.
Contact:
National Pines Golf Club
10 Sideroad,
Innisfil, ON
L9S 4T3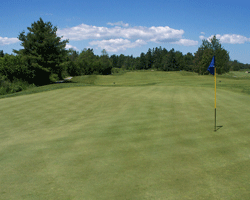 Challenging Hole 4