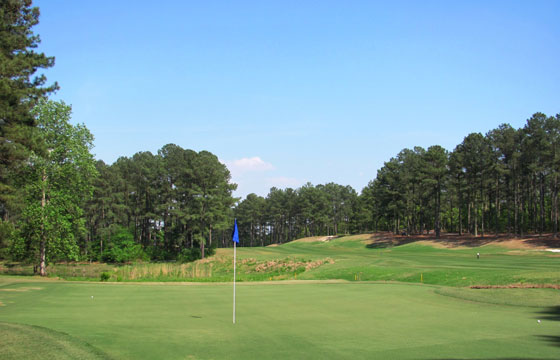 Hole #16

Legacy Golf Links:

Jack II's Playable Pinehurst Treat
Posted by Alistair Orr


Located in Aderdeen a mere 15 minute drive from the Village of Pinehurst you will find a wonderfully playable Jack Nicklaus II design. Although The Legacy Golf Links was Jack II's first solo design effort in the United States he was no rookie to the golf course design game having previously penning several courses overseas and worked along side his father at Nicklaus Design for years. This up-market daily fee course can be characterized as gently rolling with tree lined fairway corridors and water hazards aplenty. However, Jack II crafted a very playable, aesthetically pleasing routing that takes advantage of an abundance of water hazards to create a challenging test for low handicaps from the back sets of tees while positioning a forgiving set of front tees for the shorter hitters.  
Nicklaus seemed to be striving to create an experience where you will be challenged with difficult shot making on some holes while offering a breather on others. For the most part the fairways are generous, the rough kept at a sensible length and the greens are accessible to a ground game. The putting surfaces are relative small and you will be faced with moderate slopes which will keep you on your toes but are not overly penal. There are fewer bunkers here than you will find at most courses with 14 of the holes featuring one green side trap and several holes have no bunkering at all. The end result is a course where players of all abilities can have a really enjoyable day.
Course Stats:
| | | | |
| --- | --- | --- | --- |
| Par 72 | Yardage | Rating/Slope-M | Rating/Slope-F |
| Black | | 73.9 / 133 | |
| Blue | | 71.4 / 127 | |
| White | | 68.9 / 123 | |
| Gold | | 66.9 / 112 | |
| Green | | - | |
Access: Public daily fee and through golf packages.
Location:
Aderdeen, NC
| | | | | |
| --- | --- | --- | --- | --- |
| Editor's Shot Maker's Picks | Hole 5 | Hole 9 | Hole 11 | Hole 16 |
| Par | Par 3 | Par 3 | Par 3 | Par 3 |
| Black | 185 | 185 | 434 | 434 |
| Blue | 138 | 138 | 393 | 393 |
| White | 117 | 117 | 353 | 353 |
| Silver | 96 | 96 | 225 | 225 |
| Red | 96 | 96 | 225 | 225 |
| HCP-Men | 13 | 13 | 3 | 3 |
| HCP-Women | 15 | 15 | 3 | 3 |
Feature Holes Descriptions:
The design of Holes 8, 16 and 18 are certainly worth a special tip of the hat to Jack Junior. The gentle dogleg left 8th hole may be short in stature topping out at 387 yards but it requires a delicate drive though a shoot of pines over the crest of a hill. This is followed by a downhill approach that must carry a large waste area before finding the wide but shallow green complex set into a hill. Sixteen is a gem of a par five offering a risk/reward opportunity for the long hitters. To cash in a reward on this hole the approach must negotiate a right side lake and fronting creek before coming to rest on the dance floor. Jack II saved the toughest for last at Legacy. The 18th requires your Sunday best drive up a steep hill leaving a lengthy approach shot which must carry the lake and rock wall that fronts the green. The brave soul can take dead aim at the pin while the wise may opt to bail out short left and try to tame the hole with a tidy up and down to finish off the round.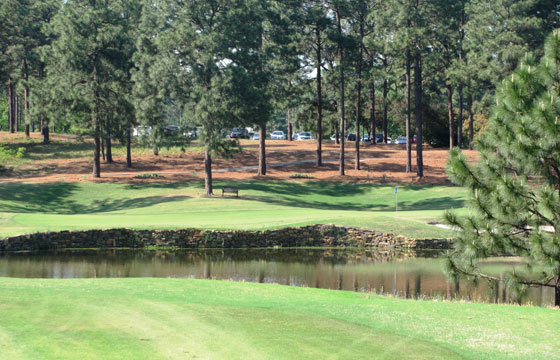 Hole #18
As noteworthy as the aforementioned holes may be the short holes at Legacy are superb and I opted to name all four par 3's to the Editor's Shot Makers collection. Water plays an integral part in the design of each of these holes and if an error is made in club selection or execution you may find yourself reaching for the ball scoop all too often.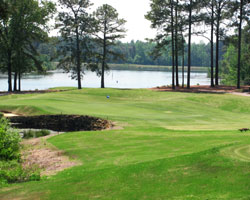 The first three-par in the collection is the nerve wracking 5th hole. Playing slightly down hill a short iron is likely the club of choice. The successful approach must contend with a bunker and a rock walled pond that abuts the entire left side of the green while a green-side swale will catch the bail-out right. The green also contains multiple swales so proper club section is paramount to locate the correct area where the pin resides. The front nine closer is another short-to-medium length one-shottter and with a facing prevailing wind club selection can be tricky. A well struck approach must carry a large cove and fronting bunker to find happiness on the putting surface. The 11th hole middle and back tees are situated on a peninsula with wetlands front and back. The approach must avoid the fronting wetlands and lake that sweeps up the right side to find the long narrow tiered green complex. Nicklaus positions the front tees forward to avoid a water carry for the higher handicaps.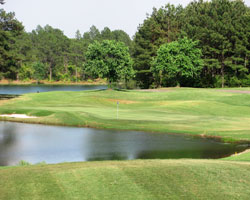 At 17 players must once again contend with one of the numerous water hazards found on the course. An approach hit left or short will find nothing but nastiness for a lone bunker flanks the side of the green and the pond will swallow any left side shot that misses the bunker. The right side miss is no picnic either for numerous humps and bumps will make chipping to this multi-tiered sloping green a challenge. It's a certainty that four 3's marked on the scorecard see you gaining ground on the field.
Contact:
Lagacy Golf Links
12615 US HWY 15-501,
Aberdeen, NC 28315
800-314-7560