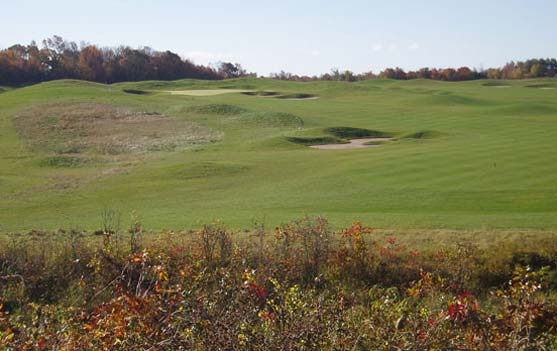 View Website
Heritage Hills Golf Club:
Hole # 7: Par 4, 295 - 425 Yards
Posted by Alistair Orr
Rene Muylaert isn't the most recognizable name in Canadian golf course architecture circles, but, as the idiom states: "you can't swing a cat in these parts without hitting a course that Muylaert didn't have his hands on".
With nearly 50 layouts to his credit in Ontario, Muylaert certainly left his mark on the Barrie, Mildland, Orillia and the greater Lake Simcoe area golf scene. Among others, Tangle Creek, Horseshoe Valley, Hawk Ridge, Brooklea, Western Trent and Heritage Hills were all Muylaert creations. He designed many super golf holes but one of his finest may be the par four 7th at Heritage hills.
Description:
From the tee perched high on a bluff, the fairway below sweeps around a fairway bunker on the left side and climbs steadily to an elevated green which is guarded by two bunkers short right and one on the left.
It takes a pretty big drive to carry the fairway bunker on the left side but if you succeed a short iron shot from a great angle to any pin position on the green is the reward. However, if you don't carry the bunker or pull it in to the long grass which protects the corner, a very difficult approach shot awaits and par will be next to impossible. The smart player will favour the right side off the tee setting up a mid iron to the green. A front pin should be ignored and the approach should be played to the centre of the green. Be careful to two putt and walk to the next hole with a par you can be happy about!
Heritage Hills GC
Barrie
705-726-8200
(filed May 2011)