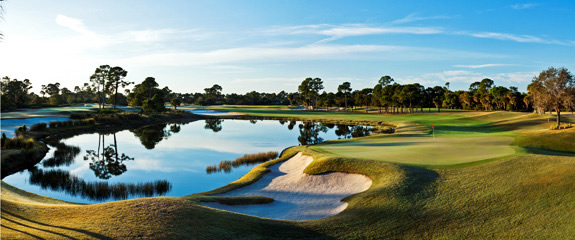 View Website
PGA Village: Port St. Lucie:
Everything for Your Florida Golf Vacation
By: Sandy Trapp
The Atlantic Coast of Florida has no shortage of great golf facilities to explore. The PGA Village in Port St. Lucie is one such location that must be considered to satisfy that golf desire. Easily accessed from I95, this golfer's paradise is home to three championship layouts by legendary course designers Tom Fazio and Pete Dye, as well as a fun, six-hole, family friendly Short Course, PGA Hall of Fame and 35 acre, state-of-the-art Golf Learning and Training Center. Owned by the PGA of America, this public play facility has fantastic golf and a few extras to satisfy every part of your get away golf fix.
Wanamaker and Ryder Courses: Opened in the late 90's as the original North and South courses, the courses underwent an update and were rebranded after two of the most recognized names in golf history, Wanamaker and Ryder. Both Tom Fazio designs are filled with his trademark playability featuring generous fairways, lined with framing bunkers and large tricky greens. The layouts gently roll with slight elevation changes and are routed along large ponds and creeks. Many green sites are perched precariously with water guarding the line of play. The stretch of holes 5-8 on the Wanamaker Course all have water protecting them, including the terrific short Par 4, Number 8 with two separate greens, each with its own set of challenges. The Ryder Course features 12 holes with water to add to the challenge, including the risk / reward Par 5 Number. Bending right all the way to the hole bunkers and water guard the right side and the split level green can be a beast. Beautifully visual and imminently playable these Fazio designs are a wonderful challenge.
Pete Dye Course: Dye is known for his eccentric design principles, featuring stark fall-offs, mounding and menacing strip and pot bunkering. All of these characteristics are featured in this 2000 design routed along marshland and beautiful forested areas. The layout playing between 4963 and 7279 yards has five sets of tees providing a range of challenge for players of all abilities. The course, links in style, is typical to Dye's designs place a premium on all three parts of your game. Tee shots must be shaped to avoid hidden bunkers, approaches must contend with water and nasty green side bunkers and your putting stroke will be tested with the large heavily sloped greens.
The Muesum: The PGA of America has an on-site museum paying tribute to the great game and its professional roots. A grand collection of the history of golf and many of the characters is a wonderful journey through the ages of the game. Also used as The Hall of Fame for The PGA, history of the grand ole game abounds along with the history of the largest sports organization in the world dating back to its founding in 1916. In addition to getting to see the Wanamaker Trophy and Ryder Cup guests can immerse in the glory of past PGA and Ryder Cup lore.
Stay and Play: PGA Village has numerous stay and play packages available to cater to whatever type of needs you have. Whether reserving for a guys golf junket, a large group of diehards or a relaxing family vacation centered around some great time spent on the links, the hotels, inns and villas nearby will have something to suit your visit. Custom packages can be built to suit your budget and timeframe.
PGA Golf Club
1916 Perfect Drive
Port St. Lucie, FL 34986
800-800-GOLF (4653)
772-467-1300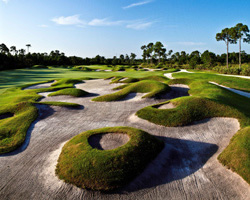 Dye Course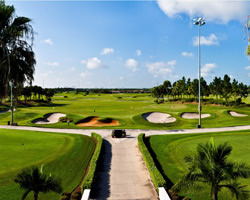 Learning Center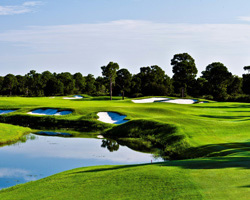 Ryder Course