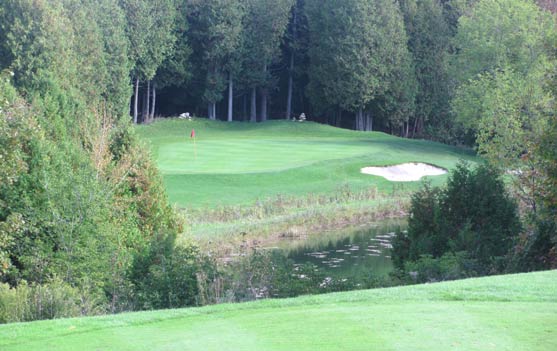 Markdale Golf & Curling Club:
A Relaxing Country Experience
Posted by Alistair Orr
If you find yourself near Markdale this summer do yourself a favour and stop in for a quick nine at the Markdale Golf & Curling Club. Although Markdale Golf has been around for nearly 50 years, I first discovered this gem while researching an upcoming feature on nine-hole courses. It's a country course where the people are friendly, the atmosphere relaxed and it is home to one of the best par three's in the region.
The fairway corridors are lined with trees, sparse in places with stunted trees while heavy in others with mature cedars, pines and the occasional towering hardwood. The landscape can be characterized as rolling with a few steeps thrown in for good measure. The novice and experienced player can both enjoy a round at Markdale for the fairways are generous but the greens offer a small target requiring proficient shot making from the irons for a low score to be posted.

Featured Hole:
Hole: #7 (formerly #3) Par 3
Red: 90 yards
White: 109 yards
Back: 158 yards

Those familiar with the course will recall this hole as number three, however, recent renovations to the course have resulted in a new routing and will find it is now number seven. This demanding par 3 challenges the golfer with an approach to a postage stamp sized green protected by a pond in front, bunker right and a pine forest surrounding the back and sides.
From the back tee perched high up on a bluff a precession shot of 158 yards is required to find the green some thirty feet below. A shot left will find the pine forest while the fat shot will receive a watery burial and the shot right will get wet or find the green side bunker.  The angle from the red and white teeing grounds is slightly different and requires a shot directly across the pond. At 109 yards the white tee is located half way down the bluff while the 90 yard red tee is down closer to water level. No matter which tee is selected there is no margin for error here. A wonderful par 3!
Stats:
9 holes Par 72, 2567 / 2853 yards
Contact:
Markdale G&CC
Markdale, On
(519) 986-2690
http://markdalegolfandcurlingclub.ca/
(filed spring 2012)