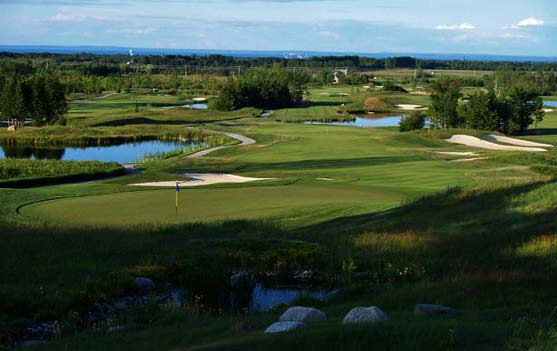 View Website
OslerBrook G&CC:
Hole # 16: Par 4, 195 - 330 Yards
Posted by Alistair Orr
A par 4 does not need to be 495 yards to be a great hole! Most golf course architects slide in a couple of short par 4s into their designs. These holes usually rank high on the risk/reward scale, with plenty of trouble to catch wayward drives. Although the safe play is to lay up, a good design will ensure it's tough to resist the urge to go for the green. The 16th at OslerBrook is a great example of a really good short par 4.
Description:
The 16th is a superb hole whether played from the junior tees or the tips. The hole flows uphill to a green complex that is set in a natural amphitheatre with the escarpment and clubhouse as the backdrop. A pond and environmentally sensitive area protects the right side, while three bunkers amongst hill side fescue protects the left. A deep green side bunker guards the green.
Risk/Reward Driving Strategy: Low risk: Ease a utility club out to just inside the 150 marker, thus taking the bunker and hazards out of play. However, a tricky uphill approach shot into the prevailing winds and over a deep bunker awaits those who opt for the safe route off the tee.
Moderate risk: Hit a three wood and take it farther up the left side of the fairway opening up the angle to the green for a short iron second shot. However, a shot blocked right will find a watery grave.
High risk: Those willing to try to drive it into the neck of the green, while avoiding the trouble on all sides, will be rewarded with a good up and down opportunity for a birdie. Did I mention that the green slopes severely left to right? No matter which strategy you employ, this hole's last line of defence will likely get the last laugh.
OslerBrook G&CC
Collingwood