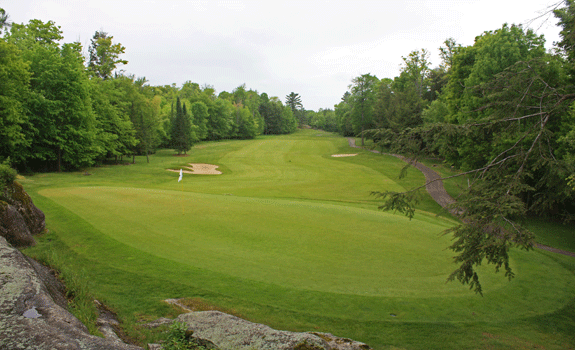 Hole 13

Parry Sound Golf Club:
A Must Course for Any Northern Itinerary
Posted by: Rick Parnham
The Parry Sound area has played a big part in my life. Summers at our cottage, numerous aunts, uncles and cousins to visit and countless days of childhood and adolescence spent exploring the forests, rocks and water are memories that helped shape who I am. Growing up a Boston Bruin fan, in great part to Parry Sound's native son, I find myself taken back to a care-free time of simpler living and less stress every time I veer the car off the 400 to see my mom.
The Parry Sound Golf Club is a place I discovered well after I should have. Not having taking up the game of golf until close to the end of high school I regret waiting years to discover the charm and challenge that this early Thomas McBroom design. The Club has roots dating back to 1929 with the original nine hole facility built on a piece of land near Nobel, just a few minutes north of Parry Sound. The original nine is now under the recently expanded highway 400 and a mere memory to most. The club relocated nearby in 1982 after commissioning McBroom to route a new 18 hole course over and through the granite and forest of the Canadian Shield landscape.
The course has been gently placed on a piece of land once home to a farmstead as characterized by the silo beside the sixth tee. This feature dates back decades as one long time player recalls a time when golfers would try to hit the silo from the old course's ninth tee traversing the Trans Canada highway in their attempt. The routing blends a great mix of precision and shotmaking to traverse this deceptive 6000 yard test. Filled with outcroppings, ponds, wetlands and sternly sloped greens most will arrive with expectations of a short course that is a push over quickly realizing in short order and after numerous squares on the scorecard that this is a player's course.
Access: Public
Course Stats:
| | | | |
| --- | --- | --- | --- |
| Par 70 | Yardage | Rating/Slope-M | Rating/Slope-F |
| Blue | | 69.1 / 1329 | |
| White | | 67.5 / 126 | |
| Red | | 64.4 / 118 | 68.7 / 123 |
Location:
Nobel, Ontario a few kilomters north of Parry Sound
| | | | | |
| --- | --- | --- | --- | --- |
| Editor's Shot Maker's Picks | Hole 3 | Hole 7 | Hole 13 | Hole 17 |
| Par | Par 5 | Par 3 | Par 4 | Par 4 |
| Blue | 495 | 165 | 266 | 381 |
| White | 478 | 145 | 254 | 354 |
| Red | 444 | 127 | 234 | 338 |
| HCP-Men | 3 | 13 | 12 | 6 |
| HCP-Women | 3 | 13 | 12 | 6 |
Feature Holes Descriptions:
The first of the par 5's, hole number three, is a wonderfully designed three-shot dog leg left. The tee shot must take trees right, water left and bunker long into consideration. Laying up to the corner is the smart play. The second shot is best played as a layup to your favorite yardage leaving a demanding wedge shot into a green site protected by water, sand and heavy slope. The par 3 seventh is both beautiful and challenging. Playing uphill to a green framed by a rock wall behind and wrapping around two cavernous bunkers on the right, there is little room for errors with a false front and humps and bumps galore.

Hole 15
The signature par 4 13th is a remarkable short hole. With more ways to attack par than you can imagine this hole will stick in your memory long after the post round beverage. An elevated tee presents the task ahead where you must navigate your way to the small shallow shelf-like green perched high atop a rock outcropping and backed by a rock wall. Anything struck short risks sand or a carom off the fronting granite, while a little too much club could result in never seeing your Titleist again. The penultimate hole is a daunting par 4 dogleg left. The tee shot is best played short of the encroaching pond left and bunker long and right. This leaves a long iron or hybrid into a narrow green. The daring player can flirt with carrying the pond at the corner and will be rewarded with a more manageable approach for par, but at great risk.
Many will scoff at the yardage at Parry Sound when you first see the card. Make no mistake, this is a very testing golf course that requires sound shot making and a deft touch with the flat stick to survive the inevitable chain of bogeys waiting for you. With many top-notch golf options in the Parry Sound area it would be easy to overlook this facility, but that would certainly be your loss if you did.
Contact:
Parry Sound Golf & Country Club
50 George Hunt Memorial Drive
McDougall, Ontario
P2A 2W9
705 342-5262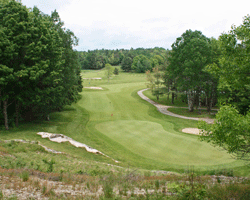 Hole 17