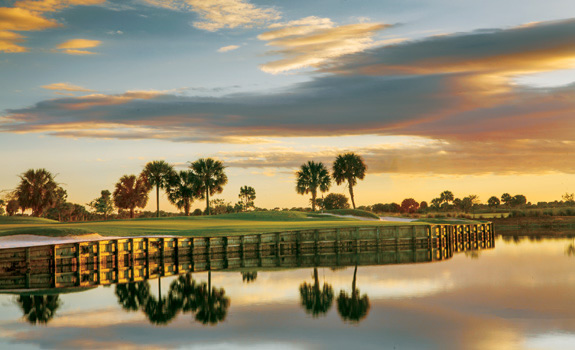 Hole 18

Sarasota National Golf Club:

A Driver Friendly Treat With Slick Speedy Greens.
The Tamiami Trail is the section of US 41 that connects Tampa and Miami. At one time this was the main artery for traffic between these south Florida cities. Since the building of the US Interstate system the I-75 has assumed the main thoroughfare role for south Florida travelers while the US 41 has become a secondary route filled with shopping malls, strip plazas and seemingly endless housing communities. One such development is the evolving neighborhood of Sarasota National located between Venice and North Port. Opened in 2008 this real estate play is home to a wonderfully fun Gordon Lewis design. The card carries a beastly yardage, but is eminently playable off the tee as most fairways could handle a short game range across their width. Extremely driver friendly and lying before your eyes as you stand on the tee, few tee shots here evoke the tremors some expect of Florida courses lined with homes and water. The teeth of this layout awaits at the green sites, many surrounded by deep soft sand bunkers and slick fall offs punishing anything struck less than true on approach. Rolling true and fast, these carpets just might drive you crazy if you struggle to stay below the hole.
Editor's Shot Maker's Picks: Sarasota National
| | | | | |
| --- | --- | --- | --- | --- |
| Editor's Shot Maker's Picks | Hole 7 | Hole 13 | Hole 16 | Hole 18 |
| Par | Par 5 | Par 4 | Par 4 | Par 4 |
| Black | 560 | 382 | 429 | 390 |
| Gold | 510 | 327 | 406 | 333 |
| White | 476 | 295 | 381 | 310 |
| Jade | 422 | 252 | 283 | 259 |
| HCP-Men | 3 | 14 | 2 | 14 |
| HCP-Women | 1 | 14 | 10 | 12 |
Feature Holes Descriptions:
On a course that lets the driver loose our shot maker's selections feature holes that have a substantive risk / reward to your tee shot. Number 7 is the second of the lengthy par 5's on the front side. A dogleg left cape-style hole wrapping around a lake. The aggressive play flirts with the waterline and massive fairway bunkers left. The second shot to the elevated well guarded green is best played as a layup short of the crossing path and pot bunkers. Heavy slope, water and sand are the guardians influencing your wedge attack. Hole 13 is a slinging dogleg par 4 arced around a wetland and jungle. Your approach is shorter and better received from the left side of the fairway, but anything tugged a little too much will be forced to drop outside the critter habitat. The green has huge slope and a downhill putt could lead to the need for a wedge for your next if not careful.

Hole 14
The 16th is another dogleg left, only if played the safe way. Back tee bombers are tempted with a straight away tee shot over the left tree line drastically shortening the hole. The perfectly placed bunkers left have to be carried to stand any chance at par, as I painfully found out! The pin position on this multi-tiered green must be considered in advance of the approach for a green in regulation does not guarantee a 2 putt par. The final hole is a relatively short but the angle of attack for the second shot is the primary concern here. A buttress fronted green surrounded by billowy sand bunkers awaits your attempt to finish strong. Best played long and left off the tee you will be able to take dead aim at the pin without the daunting watery grave between you and home.
Fast and firm are two words that come to mind when describing Sarasota National. Playing shorter than the card would suggest because of the roll the short grass gives, this is a second shot golf course. With speedy greens rolling true testing all your putting game can muster your round here will have you wanting another crack at Sarasota National.
Course Stats:
| | | | |
| --- | --- | --- | --- |
| Par 72 | Yardage | Rating/Slope-M | Rating/Slope-F |
| Black | | 75.2 / 136 | |
| Gold | | 71.9 / 129 | |
| White | | 69.5 / 121 | |
| Jade | | - | 69.1 / 117 |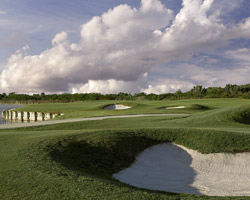 Hole 7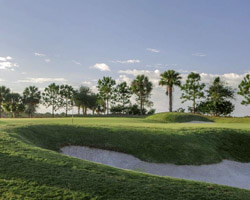 Hole 6
Contact:
Sarasota National Golf Club
25510 National Boulevard,
Venice, Florida,
34293
941.496.8676
Photgraphy Courtesty of Sarasota National
& Troon Golf