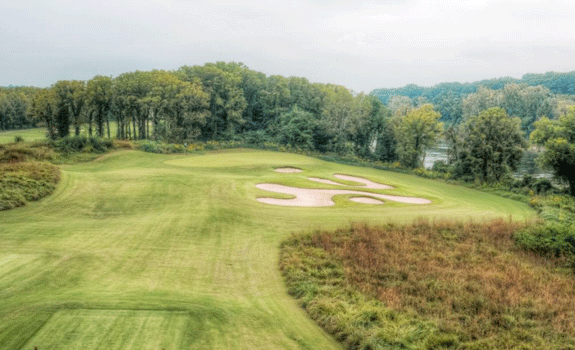 Tranquil Riverside Setting

Birdies and Beer in Music City:
An Excursion to Nashville's Fairways and Flights. (Part 1)
Posted by: Rick Parnham
With the onset of the late fall cold weather closing down the golf business in Ontario, my longtime golf buddy and I turned our eyes south to look for warmer climes to get in a few more swings in an attempt to extend our golf season. Pointing our car south we headed to the intriguing city of Nashville for four rounds of golf and a nightly foray into the city's lively beverage scene.
A Presidential Golf Experience at Hermitage Golf Club:
Sharing the name of the vast historic estate home of Nashville native President Andrew Jackson, Hermitage Golf Club is one of the state's mostly highly regarded public play golf options. Nestled along the banks of the Cumberland River this 36 hole facility features two distinctly different experiences. The General's Retreat, designed by Gary Roger Baird, is the original routing on property and was once home to the LPGA Sara Lee Classic. Traditional in design, this parkland-style course sits atop a gently rolling terrain dotted with nearly a dozen ponds. Tightly treed along many fairways a premium on shot making is required to navigate the narrow corridors to find the tricky green sites. The greens have plenty of character with many being pushed up and heavily bunkered, including the double green shared by the par 3, 3rd and 13th holes. Playing uphill to a very undulating green ringed with deep bunkers, the final hole at the General's Retreat is a great finish.

Winding Around Wetlands
The President's Reserve was added to the club in 2000. Designed by Denis Griffiths the layout is routed over a relatively flat piece of pristine wetlands traversing the banks of the river and a long bayou. Wider fairways and more accessible greens grace this 7200 yard test. A bombers delight, the course lets you enjoy some fun with the driver, even if it is goes a wee bit astray. The large greens are subtler than at the General, but still provide plenty of slopes and swales to get your attention. The finishing holes on both nines cross natural hazards tempting with demands of both length and accuracy. A wonderful touch of character is found here with the heard of sheep set grazing on the fairways and rough, bringing a bit of old-world feel to the courses.

Final Drive at President's Reserve
Stay and play opportunities are available in comfortable course-side cottages overlooking the golf course and steps from the clubhouse. Filled with all the ammenities you need for a quiet retreat, or to house a group of golfing buddies for an outing, being on-site in the cabins will make your visit both convenient and memorable. A private putting green and fire pit lend the chance to relax and have some apres fun following your round. www.hermitagegolf.com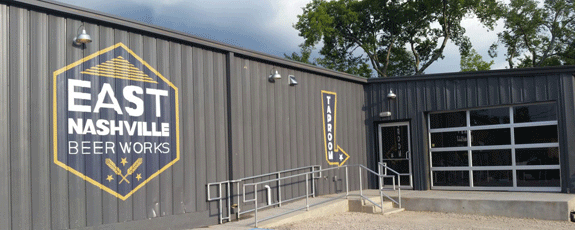 East Nashville Beer Works Neighborhood Taproom
East Nashville Beer Works was our evening stop following our rounds at Hermitage. Located a couple blocks east of the I-65/24 on East Trinity Lane, owner Anthony Davis has created a vibrant community-based brewery experience. Tailored to create a casual neighbourhood gathering place to enjoy friends and tasty beers, the location has an open concept taproom with a terrific casual dining menu. The "go-to" brew is the Miro Miel, a golden ale flavoured with a hint on Tennessee honey. A collection of robust IPA and session ales will be welcomed by hops lovers and their hickory smoked porter will satisfy even the most discerning palate. Our take home beer of the night was the Coconut Cream Pie Ale, a smooth flavourful brew that filled a couple large cans upon our exit. Whether it be for a night out for some food and brews, or a chance to hang with friends playing darts, or even a community movie night on the spacious back deck, East Nashville Beer Works offers a place to feel at home with a great selection of tasty craft beers. www.eastnashbeerworks.com
President's Reserve: Par 72
| Tees | Yards | Rating | Slope |
| --- | --- | --- | --- |
| Black | 7157 | 74.4 | 132 |
| Gold | 6792 | 72.7 | 130 |
| Blue | 6443 | 70.4 | 124 |
| White | 6056 | 68.8 | 121 |
| Green | 5669 | 67.2 | 115 |
| Orange | 5138 | 64.8 | 110 |
General's Retreat: Par 72
| Tees | Yards | Rating | Slope |
| --- | --- | --- | --- |
| Gold | 6773 | 72.3 | 131 |
| Blue | 6465 | 71.1 | 128 |
| White | 5954 | 68.4 | 121 |
| Green | 5638 | 67.0 | 117 |
| Orange | 5437 | 66.1 | 115 |
| Novice | 3315 | N/A | N/A |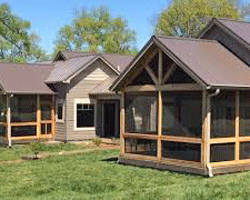 Hermitage Cabins