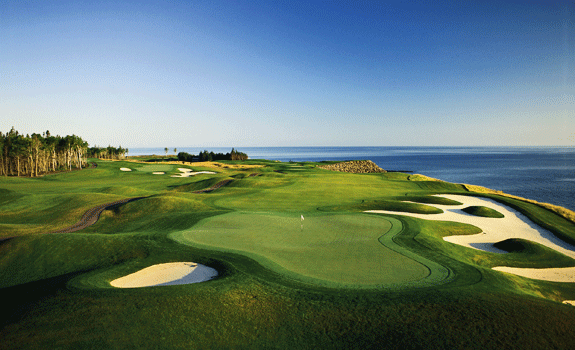 Hole 16

Fox Harb'r Resort:
Nova Scotia's Luxury Outdoor Playground.
Built on a massive piece of rugged Northumberland Strait coastline, Fox Harb'r, the luxury resort built by Ron Joyce of Tim Horton's fame is far more than just a great golf experience. In addition to the wonderful Graham Cooke design, which is the centerpiece to the complex, the resort boasts luxurious accommodations, a world class shooting range, deep water marina, executive par 3 course, fabulous mutli-floor spa complex and even its own airport for those arriving with a little more octane than most.
This visionary luxury resort complex sits on a peninsula across the Strait from Charlottetown. Located just north of Wallace off Ferry Road about midway between Tatamagouche and Pugwash guests are welcomed at the ornate gates with lush gardens and a whimsy of characteristic foxes to greet you. The championship course is sculpted beautifully out of inland forest and along coastline reaches buffeted with the ever present "Wee Breeze." Superbly conditioned and a daunting task from any set of tees Fox Harb'r is an Atlantic Canada must play experience.
Editor's Shot Maker's Picks: Fox Harb'r
| | | | | |
| --- | --- | --- | --- | --- |
| Featured Holes | Hole 8 | Hole 14 | Hole 16 | Hole 18 |
| Par | Par 4 | Par 4 | Par 4 | Par 5 |
| Gold | 410 | 412 | 353 | 500 |
| Blue | 355 | 385 | 345 | 480 |
| White | 335 | 375 | 325 | 460 |
| Red | 295 | 345 | 300 | 435 |
| Yellow | 260 | 175 | 255 | 405 |
| HCP-Men | 9 | 10 | 18 | 8 |
| HCP-Women | 13 | 12 | 14 | 4 |
Feature Holes Descriptions:
Cooke's design blends length and strategy over the routing. The par 4 eighth is the first of many stand out shot maker's holes. An interrupted fairway guarded by water left and bunkers long forces you to lay up to the dangers and position yourself to attack the green tucked behind a stream and huge bunker complex on the right. Best attacked from the left side of the fairway, the green has a bisecting ridge that needs to be carefully considered. The par 14th has a backdrop few will forget. The palatial retreat of the visionary owner with Northumberland Strait and distant PEI make finding an aiming point a little tricky. The fairway ends in a dip at the dogleg right bend and places a premium on distance control to stay in the short stuff. Avoiding the guarding bunker right with the tee shot is critical to make the massive green reachable with your approach.

Hole 17
Every course needs a short par 4 hole that affords you the opportunity to let you bring out your inner Bubba. Number 16 is a super sample of just such a hole. Standing on the edge of the sea, high on a rock-ledge tee, the bombers can have their fun and let it fly downwind to the hole. However, the hole plays long enough that reaching the green is a mere dream to most.
The finale is a wonderful par 5 that tempts you to take a huge gamble. This dogleg left wraps around a pond and climbs steeply from the driving area to the large multi-tiered greensite perched high in the distance. The safe route is to tack your way to the corner and lay-up to put a wedge in your hand. More daring players can take aim at the finger of fairway sticking out into the pond leaving a fairway wood opportunity to get home in two.
Fox Harb'r Resort is an outdoor lover's paradise. The stunning seaside setting is a perfect location to enjoy and be challenged by this Graham Cooke design. Regardless of whether your visit is for a championship calibre round or to savour the many other refined experiences, guests at the resort will be treated to first class facilities and hospitality to match.
Course Stats:
| | | | |
| --- | --- | --- | --- |
| Par 72 | Yardage | Rating/Slope-M | Rating/Slope-F |
| Gold | | 75.4 / 141 | |
| Blue | | 72.9 / 136 | |
| White | | 71.2 / 132 | - |
| Red | | 69.3 / 120 | 74.3 / 130 |
| Yellow | | 66.4 / 119 | 70.2 / 123 |
Contact:
Fox Harb'r Resort & Spa
1337 Fox Harb'r Road,
Wallace, Nova Scotia
B0K 1Y0
1-866-257-1801

Photos courtesy of Golf Nova Scotia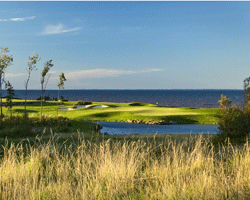 Hole 14