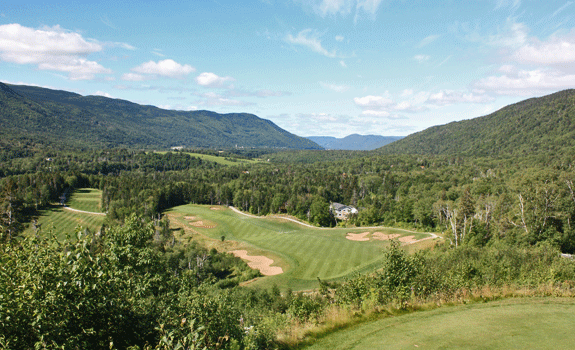 Hole 10

Humber Valley Resort: The River
Newfoundland's Premier West Coast Golf Resort.
Posted by Rick Parnham
For many traveling to Western Newfoundland the first point of contact with "The Rock" is the airport at the charming town of Deer Lake. Built on the northern shores of the name-sake water body this historic logging and trapping center has become the gateway to many Newfoundland adventures. With Cornerbrook and the Gulf Shores to the south, and Gros Morne National Park and all its splendour to the north, this quaint village now embraces tourists in a big way.  
In an attempt to seize a place for luxury travel dollars, Humber Valley Resort, an ambitious, sprawling, chalet-style golf community was built on the southern slopes of Deer Lake. Set with stunning vistas of the lake, mountain ridges and spectacular Humber River Valley, the resort is an outdoor lover's paradise. Opened to guests in 2004, the resort brought in Doug Carrick to build Newfoundland's signature golf facility, The River Course. Set on a steep hillside the course plays with considerable elevation change throughout. Graced with remarkable views and stern shot making demands The River Course will test your meddle and your ability to focus on golf in a setting fit for picture postcards.  
Editor's Shot Maker's Picks: The River Course
| | | | | |
| --- | --- | --- | --- | --- |
| Featured Holes | Hole 5 | Hole 8 | Hole 10 | Hole 18 |
| Par | Par 3 | Par 4 | Par 4 | Par 5 |
| Gold | 232 | 423 | 458 | 545 |
| Blue | 216 | 416 | 442 | 523 |
| White | 158 | 410 | 426 | 497 |
| Red | 119 | 337 | 374 | 430 |
| HCP-Men | 4 | 9 | 2 | 15 |
| HCP-Women | 4 | 9 | 2 | 15 |
Feature Holes Descriptions:
Stunning Deer Lake views are a recurring theme on the front side of the course. Only once in the round does the lake come into play. Hole 5 is a stunning par 3 hole that played from the back decks forces an aggressive long iron to carry the red sand beach on your way to the green. Ideally played with a high left-to-right shot avoiding the watery peril, this tee shot is worth the price of admission alone. The par 4, eighth could be argued as the routings best hole. Playing from a shelf of a tee deck, your drive must cross a gorp-filled swale to begin a climb to a plateau fairway framed by bunkers and fall off left and a high bank right. The uphill approach to the elevated green site must take into account the steeply sloped bank right and bunkers guarding anything short and left.

Hole 8
The back nine opens with a portrait hole. The 10th is an enormously downhill par 4 played from the edge of the clubhouse terrace to a ski slope style fairway. The landing area is framed by bunkers both right and left, however the aggressive player could be rewarded if the short grass is found and you catch the slope leaving a short iron into this tricky and heavily sloped green. The finishing hole is a terrific end to your round. This risk / reward par 5 can offer up a chance for that much needed birdie or still challenge you if playing safely for your par. The result of your drive sets the decision for your second. Bombers can take a rip with a fairway wood or hybrid taking on the water grave shot, while those seeking less stress on the heart can layup and then be challenged by the severely sloped green with your wedge.
No trip to Newfoundland would be complete without scheduling a round at Humber Valley Resort. The pristine lakeside locale and a highly acclaimed Doug Carrick design, most worthy of accolades, along with views that will make you glad you brought your clubs and camera on the trip is an absolute must. This premier golf experience provides a unique and memorable opportunity to play one of Canada's top layouts, that will sure provide many lasting memories. 
Course Stats:
| | | | |
| --- | --- | --- | --- |
| Par 72 | Yardage | Rating/Slope-M | Rating/Slope-F |
| Gold | | 75.1 / 132 | |
| Blue | | 72.9 / 127 | |
| White | | 70.9 / 123 | 75.1 / 132 |
| Red | | 66.0 / 112 | 72.9 / 127 |
Contact:
Humber Valley Resort
Trans-Canada Highway
Humber Valley, NFLD

1-709-686-2710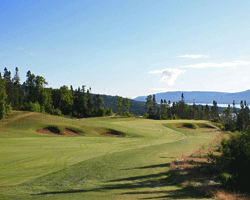 Hole 1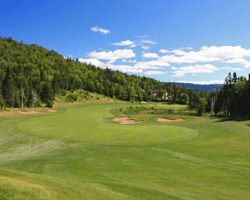 Hole 18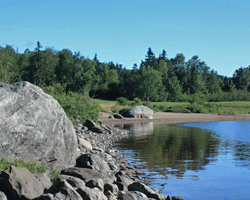 Hole 5