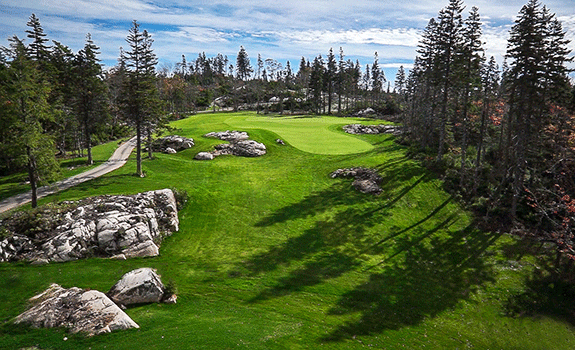 Hole 10

The Links at Brunello:
A New & Grand Premier Golf Facility in Halifax.
Posted by Rick Parnham
Tom McBroom has become a household name in Canadian golf; noted as the designer of many nationally acclaimed courses the likes of PEI's Crowbush Cove, Muskoka's Rocky Crest and Tobiano in Kamloops to mention a few. McBroom was commissioned to carve out the latest premier golf facility in the Halifax area on a rugged landscape minutes from downtown. The Links at Brunello is the centerpiece of a grand golf and real estate development in the suburban western reaches of Halifax. Located in Timberlea, and cut from dense forests, wetlands and filled with exposed rock cuts, this superbly conditioned facility is both beautiful and a stern challenge.
Adding to the existing multitude of world-class golf experiences in Nova Scotia, Brunello brings high quality golf to this suburban landscape with a vision to change the way golf is viewed and played.  Ownership has taken an aggressive approach in encouraging the growth of the game. At Brunelo golfers are able to play any number of holes per visit to fit with their schedules.  In a society where time is a huge factor in our decisions, the chance to fit in a few holes during the day while not having to give up hours for nine or 18 is a innovative approach to getting more people on the golf course. Along with access to the vast practise facility the new program to engage golfers with choice and flexibility is aimed to attract new golfers and die hards with limited time who may wish to sneak out for a few holes when they can fit it in.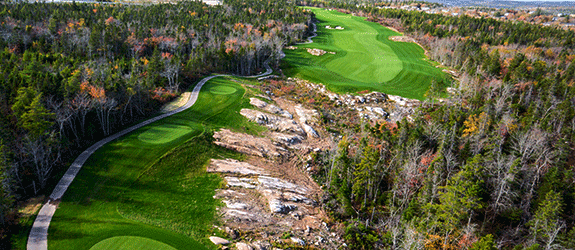 Hole 15
Editor's Shot Maker's Picks at Links at Brunello

| | | | | |
| --- | --- | --- | --- | --- |
| Featured Holes | Hole 3 | Hole 4 | Hole 14 | Hole 15 |
| Par | Par 4 | Par 5 | Par 3 | Par 5 |
| Black | 606 | 469 | 176 | 584 |
| Blue | 590 | 447 | 157 | 561 |
| White | 572 | 428 | 138 | 517 |
| Red | 528 | 397 | 113 | 474 |
| HCP-Men | 9 | 1 | 2 | 10 |
| HCP-Women | 1 | 3 | 2 | 6 |
Feature Holes Descriptions:
The first of the massive par 5 holes at Brunello starts perched on rock outcrops presenting a downhill drive to a gentle dogleg right fairway. After a demanding drive your approach must navigate bunkers and rock cuts pinching the landing area. A back right pin forces a carry over a duo of fronting bunkers requiring a deft touch with a short iron or wedge on this uphill shot. The longest par 4 on the course awaits your next shot at the 4th tee. The dogleg left hole has a pond down the left side of the hole covering the entire length of the fairway to the green and beyond.  An uphill drive must avoid the water and the sloped rough on the right to stand any chance at reaching the green in regulation.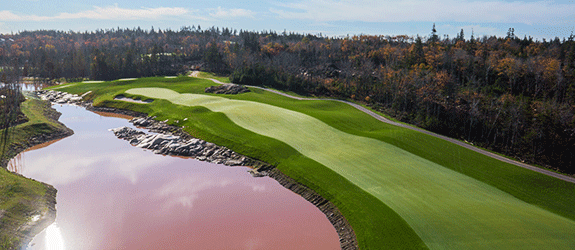 Hole 4
The second of three short holes on the back, Hole 14, is a deceptive beauty. Playing uphill to a plateau green guarded on the left by a white sand bunker and on the left and right by McBroom's signature exposed rock. The severe false front must be accounted for as anything hit to the very front of the green risks leaving a tricky chip to salvage par. The par 5 15th starts with a semi-blind tee shot over a vast collection of rock leading to the gentle dogleg left fairway. A lone fairway bunker left is a good target for shaping your approach setting up a delicate third shot to a raised green site filled with plenty of ridges and slope.

For those who have enjoyed the Muskoka creations of McBroom you will feel right at home at the Links of Brunello. Most greens have been designed with wide throats allowing for either ground or air assaults on the pins and the deep, thick rough must be avoided to have any chance getting to them. Impeccable conditioning and attentive service are standouts of the round.  A great blend of challenge and precision on a beautifully rugged setting awaits you at this terrific addition to Atlantic Canada golf in suburban Halifax.
Course Stats:
| | | | |
| --- | --- | --- | --- |
| Par 72 | Yardage | Rating/Slope-M | Rating/Slope-F |
| Black | | 74.7 / 141 | |
| Blue | | 71.6 / 134 | |
| White | | 70.4 / 130 | 73.5 / 132 |
| Red | | 66.2 / 116 | 71.1 / 124 |
Contact:
The Links at Brunello
120 Brunello Blvd
Timberlea, Nova Scotia
B3T 0G9
(902) 876-7649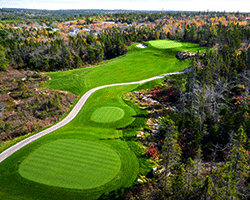 Hole 14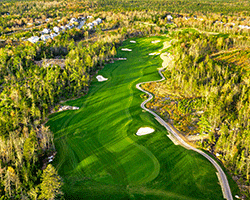 Hole 3