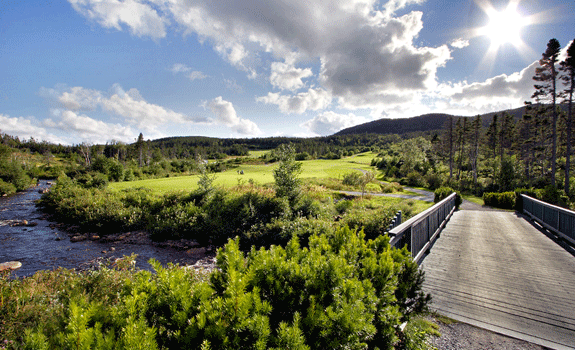 Rugged Beauty

The Wilds Resort:
Challenge & Charm Along Newfoundland's Salmonier River.
Posted by Rick Parnham
One of Newfoundland's golfing gems is located less than an hour from downtown St. John's. The Wilds, an aptly-named four-season resort located near Holyrood, is home to a variety of outdoor activities, including a challenging championship golf course. Built atop the rugged hills of the Salmonier River Valley, this Robert Heaslip design opened in 1998 and features a routing that traverses the stark elevations and natural features of the valley.
Playing to a par of 72, the layout features a terrific blend of shot making, strategy and challenge. The holes present a variety of open, windswept fairways, others tightly lined with thick forest and brush, and several featuring jaw dropping elevation changes adding to the difficulty of club selection. The course may not present itself as long on the scorecard but puts a premium on both length and correct placement off the tee to avoid the unsavory lies in the rough or worse- lost balls in the wilderness. Filled with terrifically designed holes, the layout's greatest strength lies with a pair of stern par four positioned midway on each side and both finishing holes. All four will require deft shot making, a touch of power, and nerves of steel to challenge par.
Editor's Shot Maker's Picks at The Wilds
| | | | | |
| --- | --- | --- | --- | --- |
| Featured Holes | Hole 6 | Hole 9 | Hole 15 | Hole 18 |
| Par | Par 4 | Par 4 | Par 4 | Par 5 |
| Gold | 426 | 429 | 425 | 508 |
| Blue | 404 | 400 | 398 | 491 |
| White | 385 | 375 | 390 | 466 |
| Red | 321 | 322 | 330 | 370 |
| HCP-Men | 5 | 3 | 4 | 2 |
| HCP-Women | 11 | 1 | 6 | 12 |
Feature Holes Descriptions:
The sixth is a stern uphill par 4 that has you playing to a fairway framed by traps and interrupted by scrub and brush on the way to the well-protected green. This dogleg right hole favors a right side drive, but a bunker at the turn must be avoided to have any chance at reaching the putting surface. Hole 9 is a devilish downhill beauty. Skirting the edge of the river valley, this steeply dropping tee shot must be long enough to clear the corner of the dogleg and its ominous bunker, but short enough to avoid the carnage that lies through the fairway. A successful tee shot will leave you with a mid-to-long iron approach over a deep crevasse to challenge the pin on a long narrow green with little room for error.

The lodge viewed from the fairway below
Number 15 is the sister hole to the sixth, this time playing as a dogleg left. Again uphill the tee shot must avoid rough on either side and play short of the crossing creek. A well-placed drive leaves a formidable approach into a green well guarded on either side by bunkers. The final hole of your round is a brilliant risk/reward par 5. Be careful with your tee shot as the landing area runs out quickly into a watery grave. An aggressive drive to the far reaches of the fairway might present you with "go time" if you're confident with a fairway wood or hybrid. The green, stunningly framed with forest and river valley, and the lovely resort hotel perched above create an idyllic setting for the culmination of time well spent.

With a gamut of obstacles of the wooden and watery variety, combined with stunning vistas and the occasional moose sighting your round at The Wilds will be most memorable. With first rate hospitality, a charming location, and great value for your golfing dollar, a visit to The Wilds Resort is an absolute when looking for a Newfoundland adventure to remember.
Course Stats:
| | | | |
| --- | --- | --- | --- |
| Par 72 | Yardage | Rating/Slope-M | Rating/Slope-F |
| Gold | | 74.3 / 135 | |
| Blue | | 72.7 / 131 | |
| White | | 71.5 / 127 | - |
| Red | | | |
Contact:
The Wilds Resort
299 Salmonier Line ~ Route 90
Holyrood, NFLD

1.709.229.5444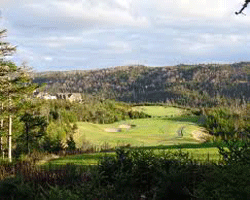 Hole 18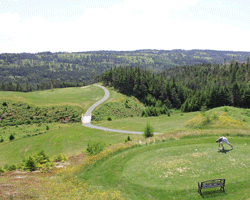 Hole 9