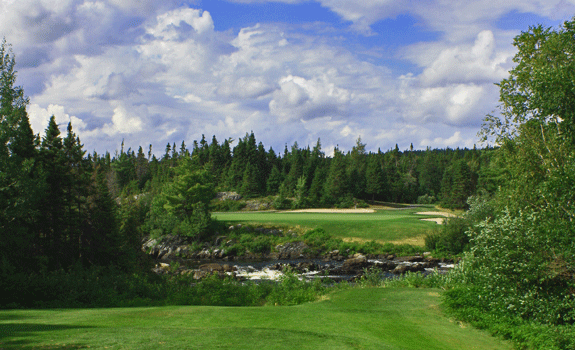 Hole 8

Twin Rivers Golf Course:
Newfoundland's National Park Golf Experience.
Posted by Rick Parnham
C. E. Robbie Robinson was a disciple of the legendary Stanley Thompson with a fine collection of highly-touted Canadian courses in his own extensive portfolio. Twin Rivers at Terra Nova Resort and Golf Community is home to one of his more noted layouts. Always in the conversation of being considered one of Atlantic Canada's most regarded layouts, Twin Rivers is situated on the most southwestern tip of Terra Nova National Park near Port Blandford. Here, a superb blend of nine holes designed by Robinson that opened in 1984, was combined with another nine in 1991 when Doug Carrick was brought in to create a truly championship course.
Situated in a seemingly endless rugged wilderness, the course has a mountain golf feel, while the seaside setting provides stunning vistas. The routing is bisected by the Trans-Canada Highway as well as by two beautiful salmon rivers which provide a stunning collection of water holes. The original Robinson nine is mixed with Carrick's new holes in a rather unique way. Each set of holes is not a standalone series, but rather they are interwoven providing different demands, sometimes from hole to hole. The sharp doglegs and narrow corridors of Robinson's style are woven into the more contemporary bunker-filled designs of Carrick.
Editor's Shot Maker's Picks at Twin Rivers
| | | | | |
| --- | --- | --- | --- | --- |
| Featured Holes | Hole 3 | Hole 8 | Hole 11 | Hole 18 |
| Par | Par 3 | Par 3 | Par 3 | Par 3 |
| Champion | 212 | 161 | 243 | 175 |
| Intermediate | 177 | 141 | 214 | 135 |
| Front | 160 | 125 | 113 | 110 |
| HCP-Men | 9 | 13 | 10 | 12 |
| HCP-Women | 9 | 13 | 10 | 12 |
Feature Holes Descriptions:
With so much to distract you at Twin Rivers, it is the beauty and challenge found in the collection of the par 3 holes that left the strongest impression of the overall solid design. The first two holes, with their stunning backdrop of Clode Sound, set the table for the first par 3 on the routing. Surrounded by bunker complexes front and back and playing slightly uphill, this beast requires a fairway wood or hammered hybrid to reach the putting surface. Par on the card is a great score here for it takes equal measures of skill and luck to stay out of the bogey column. Hole 8 is one of the most scenic holes on the island requiring is precise a short iron tee shot to a wide and shallow green complex. The raging torrent of white water rapids between you and the target gets your attention and your heart beating a little faster. Being able to set aside the distraction of fishermen trying to catch salmon and focus on the shot makes this par a solid accomplishment.

Hole 17
The classic long par 3 typical of Stanley Thompson's tree of architects greets you at hole 11. This monster hole leaves few options but to strike a near perfect fairway wood or hybrid through a narrow corridor of hardwoods and evergreens while avoiding the lurking dangers of a hidden river left and a large hump right obscuring the back portion of the green. A driver might be the play here depending on where the pin is located. The finale has a small green that is situated well below the tee deck and surrounded by thick forest, leaving no room error. The tee shot across a roaring cataract of white water feels like you need to drop it down a chimney to conquer the last chance for par or better.
Terra Nova National Park sits along Newfoundland's eastern rugged coastline, filled with inlets and fjords and pristine wilderness. This is one of the country's cherished locales and combines these coveted natural gems with a remarkable golf experience. Visitors to "The Rock" must consider Twin Rivers as an absolute on any golfing itinerary in the province. With vistas unsurpassed and a challenging routing to test your game, a visit to Twin Rivers and a stay at Terra Nova Resort and Golf Community will leave you with memories of a fabulous sea-side lodge stay and one of the country's best golf experiences.
Course Stats:
| | | | |
| --- | --- | --- | --- |
| Par 71 | Yardage | Rating/Slope-M | Rating/Slope-F |
| Champion | | | |
| Intermediate | | | |
| Front | | - | |
Contact:
Terra Nova Resort & Golf Community
Port Blandford, NFLD
A0C 2G0
1-877-546-2525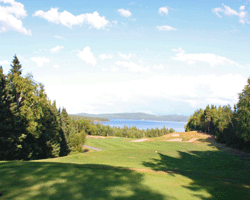 Hole 1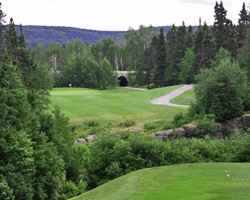 Hole11