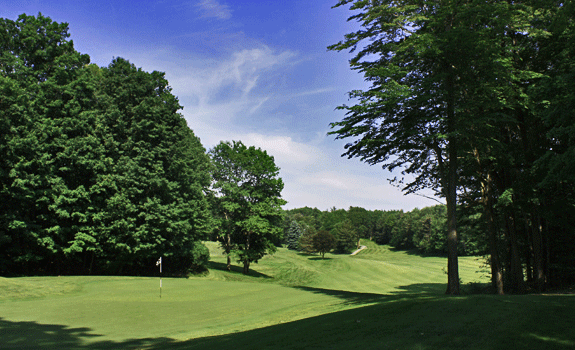 Beautiful Rolling Canvas

Pheasant Run Golf Club

:
Rugged Challenging Golf with Strong Family Values

.
Posted by: Rick Parnham
A long time favorite of many in York Region, Pheasant Run Golf Club, offers one of the more visually remarkable golf experiences in Southern Ontario. Cut from dense hardwood forests atop the Oak Ridges Moraine, the facility has a secluded feel to it, yet is only minutes from the sprawling suburbia of the 404 corridor. Located just east of Newmarket on Warden Avenue, this Rene Muylaert design is as close to wilderness golf as you can find in the GTA.
Open and operated by the Evans family since 1979, the course began as an 18 hole layout and later expanded to the 27 holes now available for play. Family patriarch Gord Evans began his foray into golf with the building of Gormley Green, now ClubLink's Station Creek. Seizing the opportunity to create a more unique golf experience, the purchase of the current canvas lead to the creation of the place the family has called home for almost 40 years.
It is no coincidence that the club has a tremendous sense of family in the daily operations. With son Craig having served as the course superintendent and now president of the operation, along with sister Brenda who runs the office, the Evans name is carrying the torch for a new generation of golfers. The club has a strong commitment to the broader community that is fostered through a variety of cultural and charitable programs aimed to engage and support community initiatives. An example can be found in the halls of the rustic PanAbode clubhouse where they regularly feature the works of a local artisan, to bring a fresh decor whether for a round of golf or attending a wedding or event in the most charming setting.

The 6th on Southern Uplands
Those never having visited before are in for an unexpected test. None of the three nines are overly long, but demand accuracy on all but a few holes. Sitting atop the rugged Oak Ridges Moraine, dramatic elevation changes, and tricky green sites are the norm. Flat lies are at a premium in the narrow and heavily tree-lined fairways, requiring precise shot making to score well. Many greens are elevated making correct club selection a difficult challenge. The three nines, Uplands, Midlands and Highlands, are all different yet all expose the player to the beauty and challenge of this magnificent piece of property.
Highlands features three par 5's. Hole 1, the facility's original opening hole is a brute, tightly treed, ending with a massive blind plateau green site. Number 6 is an exacting risk / reward hole filled with lots of places you don't want your ball, while Number 7 is a long side hill beast with out of bounds down the right the entire way. Midlands opens with a vicious par 4, tight and water lined and ends with a calculating, exacting par 5, that navigates a long pond and ends with a plateau green site. Midland's 6th may be the best hole in the entire collection; a dramatic downhill, dogleg left par 5 that can be played a million ways. The Southern Uplands features a gentler roll to the fairways. This nine incorporates a collection of well protected dogleg holes playing through tighter lines and around tricky ponds culminating with the memorable par 5 signature finishing hole.

One of the special anecdotes connected to Pheasant Run was the club having hosted a movie shoot. Movie buffs will remember that Gene Hackman and Ray Romano had a links duel in the 2004 comedy, "Welcome to Mooseport." Evans was happy to have his facility used for the shoot and proudly recounts the opportunity. Perhaps you might even encounter one of the errant shots left behind on your visit to Pheasant Run.
The Apres "Local Taste" @ Newmarket's Arch Brewing
A five minute drive back west along Davis Drive from your Pheasant Run experience will give you the chance to sample Newmarket's first craft brewery. Tucked quaintly in a storefront location, a mid-iron from the Davis & 404 interchange, Arch and its owners Bill and Sue King offer an inviting taproom experience. The contemporary styled bar and loft area can comfortably host small gatherings while boasting a roster of well above average to exceptional brews.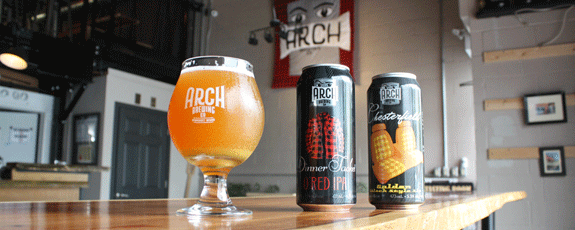 Always creative and diverse in their brewing schedule, the taps are flush with saisons, sessions, stouts, darks and wheat beers; changing as the seasons do. The staples are Chesterfield, a Kolsch-style ale; Dinner Jacket O'Red IPA, Old Homestead Alt-style amber, Flip Flop Porter, Shorty Long Back a full-bodied and flavorful 3.8 % APA and my absolute favorite, Piney McPine Face, a robust IPA with a distinct pine forest hop taste. Flights or pints can be enjoyed at the bar or in the loft area filled will furniture uniquely designed by a local makers collective. With a terrific growler club membership and retail sales onsite, there is more than one way to sample the delicious Arch flavours after you round.
Midlands: Par 36
Tees

Yards

Rating

Slope

Blue

3102

35.4

132

White [M]

2858

34.3

127

White [

L

]

2858

37.3

135

Red [M]

2533

33.6

112

Red [L]

2533

35.4

130
Southern Uplands: Par 35
Tees

Yards

Rating

Slope

Blue

3071

35.2

135

White [M]

2766

33.8

125

White [

L

]

2766

36.5

133

Red [M]

2343

31.7

112

Red [L]

2343

34.3

124
Highlands: Par 37
Tees
Yards
Rating
Slope
Blue

3380

36.5

143

White [M]

3105

35.4

135

White [

L

]

3105

38.8

142

Red [M]

2754

34.0

129

Red [L]

2754

36.3

139
Contact:
Pheasant Run Golf Club: 
18033 Warden Avenue,
Sharon, Ontario
L0G 1V0
905-898-3917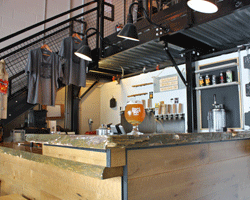 Contact:
Arch Brewing Company
110 Pony Dr,
Newmarket, ON
L3Y 7B6
(905) 895-0990