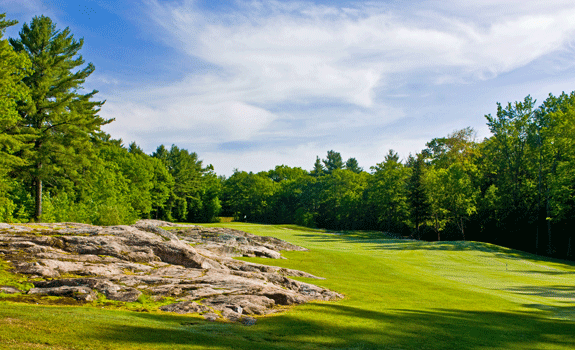 Inviting Opening Hole

Rocky Crest Resort:
ClubLink's Marvelous Muskoka Stay & Play.
Posted by: Rick Parnham
Muskoka has long been the epitome of Canadian summer vacation hotspots. The landscape that drew the Group of Seven to capture the natural beauty and serenity of the area is now one of the most recognized and highly coveted vacation destinations on the planet. Offering stunning vistas, tranquil serenity and a place to savor Mother Nature's finest work, it makes complete sense that this part of Ontario sees the hoards of visitors it does. A perfect glimpse of what places this region on the top of many travel lists can be found at ClubLink's Rocky Crest resort.
Greeting both the golfer and resort guest is a spectacular Canadian Shield setting home to vast wetlands, towering  pine and hardwood forests, along with the signature granite outcrops. A short drive off Highway 400, at the Highway 141 interchange, leads to Hamer Bay Road and the secluded and charming Lake Joseph complex. Guests are hosted with an all-suite experience. The resort's 65 condo-style units are housed in a series of tasteful buildings dotting the steep rugged shoreline, each providing stunning water views. The accommodation options range from one bedroom resort lofts to a 4 bedroom lakefront cottage. All units provide a comfortable feel with kitchenette, Jacuzzi tub and fireplace creating the perfect place to relax and unwind.
This beautiful waterfront setting is spread around Hamer Bay which  offers a fantastic array of water activities including  fishing, an inflatable water park , lake tours, two outdoor pool options and relaxing on the dock or at the beach. For those with active families there is an variety of outdoor activities to keep even the most energetic guest busy. The Armishaw recreation area boasts a six hole putting green, two tennis courts, a basketball court, beach volleyball court and paddle boats. Hiking trails and cycling adventures are easily enjoyed through the ruggedness of the property.
A day of play requires some delicious meals to keep the wheels spinning. The resort has three dining options that will nicely satisfy your needs; whether looking for a romantic dining experience or a feast for the family brood after a busy day of sun and fun. The Bayside Patio and Lounge has a casual menu featuring lunch and dinner options that can be enjoyed in the sunny outdoors on the expansive dock. The magnificent clubhouse at Rocky Crest Golf Club is home to On The Green, providing breakfast, lunch and dinner menus in the memorable log cabin setting.  Windows at Rocky Crest is the fine dining restaurant perched above the waters of Lake Joseph and providing a menu of delicacies including lobsters from their tank.  

Stunning Shoreline Setting
For many, the true drawing card to the resort is the Rocky Crest Golf Club, one of ClubLink's collection of vaunted private courses, although tee times are available to guests at the resort. Designed by highly acclaimed Canadian architect, Thomas McBroom, the layout has been listed amongst Canada's finest courses since its opening in 2000. McBroom created the routing using "all things Muskoka" to present a formidable test balanced with a stunning, natural experience. Cut from rugged landscape, the course has a wonderful blend of gentle and subtle, mixed with dramatic and heroic golf holes. Most holes are lined with dense forests, providing a secluded, serene feeling.
The Rocky Crest experience begins when you pull up to the bag drop in front of one of the most unique clubhouses anywhere. This stunning log cabin design is both welcoming and awe inspiring. The first tee offers a glimpse of what to expect, with dense forests, wetlands, a beautiful lake vista and granite all there to tickle your visual senses and imagination. The layout opens with a risk-reward par 5, followed with a stretch of holes that are a combination of precision, shot shaping and lengthy beasts. Hole 6 is one of the many stand outs. Perched on a ledge, the back tees face a granite wall that forces a carry to the elevated meandering fairway far ahead. Tightly tree-lined and filled with undulations, the fairway is the only option should par be your goal. Hole 8 is a challenging mid iron par 3 with a heavily sloped green. It is best tackled with a high right-to-left tee shot, but will require an accurate yardage for the surface has multiple tiers making for a difficult putt, should you find yourself above the pin.
The back nine is a fine blend of holes; some requiring finesse and others heroic in design. Holes 11 – 13 are beasts demanding length and nerves of steel to navigate the water and sentinel trees. The namesake rocks come into play in earnest on the short par 4 15th. The hole is lined on the left side with vast exposed granite leading to an uphill blind green site and a thrilling accomplishment rewarded with only two well struck shots. The trio of finishing holes is what keeps players coming back. Hole 16 presents wetlands on either side of the fairway that is home to a massive outcropping of granite about 300 yards from the back tee. Seventeen is a long iron par 3 and forced carry over water while surrounded by massive bunkers. The finishing hole is considered by many the true signature hole. The tee shot on this reachable par 5  hole requires a forced carry of over 180 yards to reach the dogleg right fairway guarded by a rock face on the right. Favor this side to maximize your roll and provide a chance to get home in two. Your second shot has a backdrop of the generous green framed by the unique and spectacular log cabin-style clubhouse.

A Grand Finish at the Clubhouse
Course Stats:
| | | | |
| --- | --- | --- | --- |
| Par 72/71 | Yardage | Rating/Slope-M | Rating/Slope-F |
| Black | | 73.9 / 141 | |
| Gold | | 72.4 / 137 | - |
| Blue | | 71.6 / 135 | |
| Maroon | 6199 | 70.2 / 132 | |
| Green | | 69.3 / 129 | |
| White | | 67.6 / 125 | |
| Red | | - | 70.1 / 125 |
Long considered one of McBroom's finest layouts, Rocky Crest has recently undergone a restoration of the bunker complexes, enhancing the course's playability. One of the platinum level courses in ClubLink's vast folio of facilities, many consider this the best in show and is well deserved of the numerous accolades bestowed upon it. It is hard to argue when you consider the remarkably varied routing filled with numerous scoreable holes, as well as a wealth of challenging brutes set amid the magnificent Muskoka setting.
Note: Stay & Play opportunities also exist with ClubLink's Grandview and Lake Joseph clubs with your stay at the Rocky Crest Resort.
Driving Distances: Toronto Pearson 2 hrs, Barrie 1 hr 10 mins, Sudbury 2 hrs.
Contact:
Rocky Crest Golf Resort
1 (866) 323-3305
20 Barnwood Drive
MacTier, ON
P0C 1H0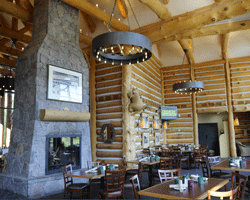 Charming Clubhouse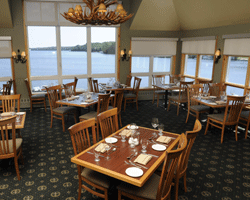 Fine Dining at Windows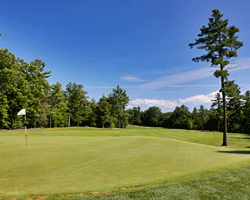 Sentinel White Pines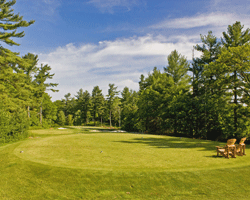 Serene Muskoka Wilderness
Photography Courtesy of
Rocky Crest Resort