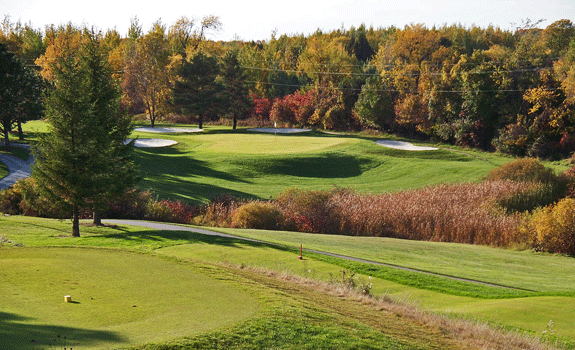 Hole 14: A Real Beauty

Shawneeki Golf Club:
Beautiful Views, Challenging Golf and A Little History

.
Posted by: Rick Parnham
A couple of par fives from the Green Lane exit on the 404, is a golf experience filled with a fine mix of varied holes and beautiful rural landscapes. Shawneeki Golf Club calls Sharon its home, but could easily do the same for the sprawling town of Newmarket. The course has been a local favorite for decades and blends a creative design with historic charm and good value. Crossed by the creeks and surrounded by beautiful farms and forests, the short drive from the urban sprawl of GTA suburbia gets you back in touch with what brought the original settlers to the area.
Located on Woodbine Avenue, the former thoroughfare leading to Lake Simcoe, now is a quiet local road after the extension of the 404 to Keswick. At first glance the facility might appear to be just another golf course in the rolling landscape of northern York Region. What many don't know is that people have been enjoying this parcel of land for well over 250 years, long before golf had made its way to the New World. An influx of Pennsylvania Quakers in the late 1700's brought Isaac Pegg and his family to the area. He turned this part of East Gwillimbury into a productive farm and then built mills for flour and lumber. A cairn dedicated to these original settlers and identifying the Pegg family burial plot can be found onsite. It recognizes the role these original Quaker settlers played in the development of the area. The farms and mills created by the Peggs predate the nearby Sharon Temple, a National Historic Site and even the founding of Canada for that matter.
The course has roots dating back to 1959. Having had the pleasure of playing it for the past 35 years, the facility has one constant theme; change! Shawneeki has operated under a few different monikers, and gone through many design changes throughout the years. Most recently David Moote was brought in to make substantial changes to a few of the finishing holes to accommodate a new practice facility. Currently a new green complex on the risk / reward fourth hole is in the works. The result of all these tweaks and substantive changes is a golf course filled with a wide variety in its design. Your game is tested with holes requiring length, creativity and deft shot making ability to navigate the cedars, water courses and dramatic elevation changes. With great views of the surrounding Oak Ridges Moraine and Black River Valley, golf at Shawneeki gives a little taste of the land's historic past, while presenting a pretty stern test to your game.
The round begins with a gentle handshake Par 4 and follows with a nice combination of risk / reward and length to test all parts of your game. A menacing creek and numerous ponds await to swallow anything off line, while thick cedars line many holes forcing you to shape shots. The fourth hole is a terrific short par 4, playing downhill with a creek in the landing area. The green is circled by dense cedars so taking a rip with the big stick might find a heap of trouble. The front side finishes with a devilish duo of holes. Number 8 is a gigantic par 5 playing over 600 yards from the back tees, while Hole 9 is a beast of a Par 3 forcing a long iron or hybrid to a perched green all over water.

Hole 9: Ringed with Bunkers
The back nine presents similar rolling fairways but also is routed over some dramatic slopes with beautiful views. As you turn the dogleg on Hole 11 you find yourself looking out over vast countryside that becomes awash in beautiful fall colours late in the season. Dogleg Number 13 can best be described as a love it or hate it hole. Its tee sits next to the babbling Black River and presents a split fairway with a large pond in the middle. The raised blind green is a welcome finish to this challenging hole. This hole is bookended by two remarkable short holes. Number 12 plays from an elevated tee on the side of a steep hillside, to a heavily sloped green 200 yards down into a valley. Number 14 starts high on a hill and plays to a well bunkered green with a huge fall off in front. Both holes provide as much challenge as they do beautiful backdrops to frame and will certainly stick in your memory bank.
The course provides four tee decks to accommodate all levels of player. Ranging from 5301 to 6716 yards, the layout presents an enjoyable round for the high cappers, while challenging the more skilled player with length and well placed water and bunkers. The greens are generous with just enough roll to make the flat stick work hard. With rates from $27- $88, your round is a good value and time well spent.
Shawneeki is a pleasant, challenging daily fee experience located in the heart of northern York Region. A stone's throw from the rural charm, filled with farms, antique markets and history that the area is blessed with, Shawneeki is a great destination for golf and exploring a little history nearby. Whether you are passing through or in the area for business, the short detour off the 404 to Shawneeki will be a perfect reason to have the sticks in the car. The lovely walk in Isaac Pegg's footsteps will provide a golf experience you certainly will enjoy.
Drive Times: Pearson International Airport 45 mins, Barrie 50 mins, Markham 30 mins.
Contact:
Shawneeki Golf Club
18543 Woodbine Avenue,
Sharon, Ontario
L0G 1V0
1-800-387-8885

Shawneeki GC: Par 72
Tees
Yards
Rating
Slope
Gold

6716

73.1

131

Blue

(M)

6217

70.5

128

Blue

(L)

6217

76.5

141

White

(M)

5804

68.4

122

White

(L)

5804

74.2

131

Red (M)

5301

66.1

118

Red (L)

5301

71.4

123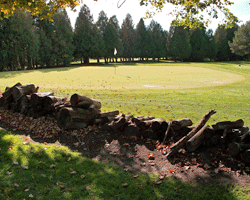 Thick Cedar Forests
Beautiful Architecture