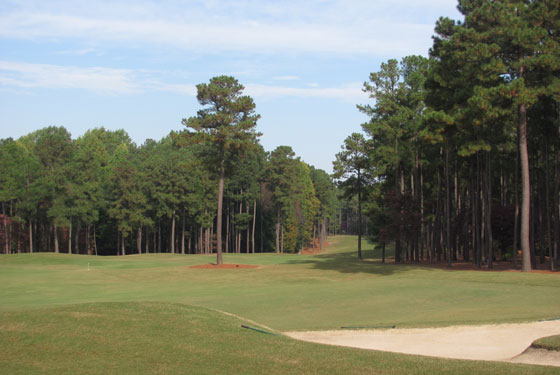 Pinehurst's Private Side: Part 1
Pinewild Country Club:
45 holes of Memorable Shot Making
Posted by Alistair Orr & Don Thorne


The Pinewild Country Club is one of a handful of private club options in Pinehurst. This member owned facility is located in the heart of Pinehurst, North Carolina and offers two championship courses, a nine hole par three course, three practice holes and short game complex at the Golf Academy facility, four Har-Tru tennis courts and a 25-meter Olympic swimming pool.
The club offers numerous organized club events to fully utilize the facilities. Men's, ladies and couples' golf tournaments are contested on regular basis while the golf academy offers extensive game improvement programs for players of any ability. On the courts, organized events are scheduled on a regular basis for singles and mixed doubles.
The clubhouse is centrally located with a spacious outdoor patio overlooking Magnolia's finishing hole. The tennis complex is adjacent to the clubhouse as is a recreation area complete with picnic table, charcoal grills and a gazebo. The Pinewild Property Owners Association also operates Pinewild Park. The park offers residents picnic areas, charcoal bbq's, horseshoe pits and a dock and boat ramp which grants owners access to the 25 acre Lake Pinewild.
The Magnolia Course, and her siblings Holly and Azalea, are situated within the gates of the vast Pinewild residential community. In symmetry with the neighborhood, the fairway corridors are replete with mature trees and the housing that borders the courses are set back nicely creating a forest like atmosphere.
Magnolia is a Gene Hamm design that opened in 1989. Featuring five sets of tees ranging from 5178 to a beastly 7446 yards, the Magnolia offers both the high and low handicapper an enjoyable test of golf. Routed through majestic pines, featuring charitable landing areas and sizeable ticklish greens, the course imbues a risk reward personality. Although the majority of the course can be described as gently undulating you will encounter dramatic elevation changes on a handful of holes. Strategically placed lone sentinel trees are also a common design element that will influence your course management and shot selection decisions.
Azalea was added to the facility in 1992. This great collection of nine par three's features two sets of tees offering dramatically different yardages ranging from 97 to 180 yards. The layout takes advantage of the rolling terrain found at Pinewild and with small green complexes accompanied with Donald Ross inspired bunkering strategically placed around the routing, the course is visually stunning and offers a true shot making test.
The final piece to the Pinewild puzzle fell into place in 1996 with the completion of the Gary Player designed Holly Course. In contrast to the Magnolia course, Gary's layout features smaller green surfaces, less bunkering, and the more numerous water features that are an integral element of the design and greatly influence decision making throughout the routing.
In addition to the 45 holes, the club also offers the Pinewild Golf Academy. It is a full service game improvement facility offering clinics, private or group lessons, customized golf schools, junior programming and are a host to the Nike Junior Camps. The pro's and coaches at the academy have been recognized both at the state and national levels. A unique feature of Pinewild's Academy driving range and short game practice facility is the presence of a three hole challenge course.
The Best of Magnolia:
Recollecting the holes at Magnolia post round while trying to identify my shot maker's selections only reinforced my initial on-course feelings that this is a really solid golf track. In the end I nominated the par 5's as a collective but I could have just as readily picked the par 3's or a couple of standout par 4's. The 3's vary in style, length and elevation presenting different challenges and call for vastly different shot selections. The par 4 fifth and eleventh holes requires reaching into your bag of tricks and drawing out power, finesse, distance control and a tidy short game. Length, elevation changes, water hazards and well defended putting surfaces are present on both holes. If your psyche is fragile holes 5, 11 and the par 3's may push you over the edge.
Each par 5 at Magnolia is unique and will test different aspects of your game. The opening hole is a beastly straight ahead par 5 where it's bombs away right out of the get go with no other way about it. Number 8 is number 1's antithesis –it winds its way first right then back to the left with bunkering and sentinel trees at each corner that need to be avoided or challenged depending on your plan of attack. This serpentine hole culminates with a false fronted green complex containing slopes and bumps that work hard to repel your approach.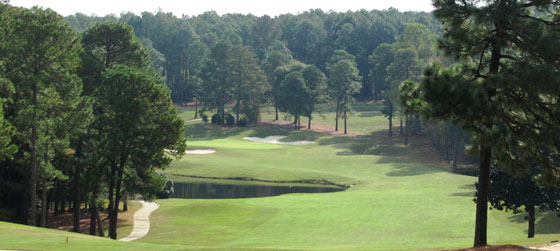 Magnolia #13
Holes 13 and 18 are similar in nature offering a risk-reward opportunity. Both begin from elevated tees high above the fairway below then rise to elevated sloping greens and water is the major design element creating the challenge. On hole 13 two ponds pinch the fairway 90 yards shy of the green which affects club selection on the approach. The 18th hole represents a different dilemma where a large pond dominates the left side from the landing area to the green. The prudent player will select a club that takes the ponds out of play on both holes. The more aggressive player may try to sneak the long ball through opening on 13 in an attempt to make eagle. To reach 18 in two shots a left-to-right shaped drive is needed to skirt two right side bunkers while avoiding a left side fraught with danger where even the slightest hook will bring bunkers, sentinel trees and the pond in to play. If your collar is getting a little tight this is a nerve wracking finishing hole
The Best of Holly:
Right from the start, through each and every hole, course architect Gary Player challenges you with risk reward shots and has used every possible feature in the existing landscape to make this course a memorable challenge. The Holly course consists of Bermuda grass fairways and rough. There is a premium on hitting fairways here for the rough is lush where most times your ball settles down deep making recovery challenging for even the best of strikers. The bent grass greens allowing for easier reading of putts that are very consistent in speed from hole 1 through 18, however, the green slopes and subtle undulations will have you constantly thinking about the next possible shot if you miss your putt long or short. The majority of greens are usually elevated and are protected by a variety of deep bunkers and high mounds. The fairways can appear narrow when standing on the tee, however, sentinel pines throughout the course will give you hints of a target line. This course is slightly shorter than its sister Magnolia but don't let this fool you as the slope index is higher on this 18 than Magnolia.
"I get a great kick out of knowing that hundreds of years after people have long forgotten me, the courses with which we have been involved will continue to give people tremendous pleasure" – Gary Player.

Holly #12
As with Magnolia, there are a great number of really solid holes on Holly but the course opener and holes 12, 13 and 17 stand out as a cut above the rest. Stepping up to the first tee, the picturesque view is inspiring with it's giant pines and oaks on either side. The elevated tee slopes gently to a valley that leaves you with an uphill approach shot to a sideways ribbon green that has huge bunkers at the back and a deep small bunker at the front. Par is an excellent way to start which will definitely make you wonder what is coming next, and what is to follow will not disappoint.
Although I highlight only one hole on the front there are several very noteworthy holes that could easily have been chosen, such as the risk/reward driveable 326 yard downhill par four 5th hole, or the very challenging par five 576 yard 6th hole, and even the tough dog leg right 437 yard par four 7th.
Hole 12 is a beastly par 3 that is all carry over a pond no matter your tee block selection. The green is sloped back to front with bunkers front and back. If you plan on bailing you must miss left as you do not want to be in the rear bunker hitting back towards the pond. Hole 13 is a long par 4 that has you hitting back over the pond as well as a strategically placed fairway bunker. The fairway also slopes left to right. The postage stamp green is guarded by an environmental cross area at the front. Your approach shot makes club selection critical or a large number can come into play quickly. The penultimate hole, although a par 3 and the easiest handicapped hole, could also be the toughest on the course if your ball does not find green off the tee. The hole is downhill and very narrow with a large hill on the left. The very long green slopes left to right. Miss left, your only option will be a very tough chip which will be virtually impossible to keep on the putting surface
The Magnolia and Holly are definitely courses you should add to your next Pinehurst trip itinerary. Although a private club, many of the local golf packaging companies can help you gain access. In our case our friends at First Tee Golf Packages (https://firsttee.net/) arranged our tee times. If relocating to Pinehurst is in the cards and you're looking for a home club it will be well worth your time to consider Pinewild Country Club. The membership is active, the club house facilities above par, grounds well maintained and the staff friendly and efficient.
Pinewild Azalia Course: Par 27
| Tees | Blue | White |
| --- | --- | --- |
| 1 | 131 | 106 |
| 2 | 136 | 115 |
| 3 | 180 | 148 |
| 4 | 130 | 109 |
| 5 | 124 | 100 |
| 6 | 155 | 133 |
| 7 | 162 | 97 |
| 8 | 192 | 99 |
| 9 | 166 | 134 |
| Total | 1376 | 1041 |
Pinewild Magnolia Course: Par 72
Tees
Yards
Rating
Slope
Black

7446

76.4

135

Blue

6835

73.4

129

White

6234

70.3

123

Gold

(M)

5566

67

119

Gold

(L)

5566

72.8

129

Red

(M)

5181

64.9

112

Red

(L)

5181

70.4

126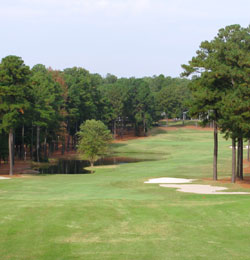 Magnolia #18
Pinewild Holly Course: Par 72
Tees
Yards
Rating
Slope
Black

7012

73.9

141

Blue

6388

70.5

131

White (M)

6000

68.5

125

White (L)

6000

74.8

138

Gold

(M)

5340

66.1

114

Gold

(L)

5340

71.0

130

Red

(M)

4484

62.4

103

Red

(L)

4484

66.4

115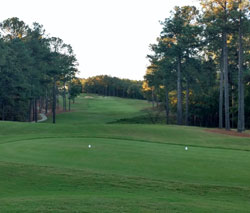 Holly #1
Contact:
Pinewild Country Club
6 McMichael Dr.
Pinehurst, NC

800-523-1499