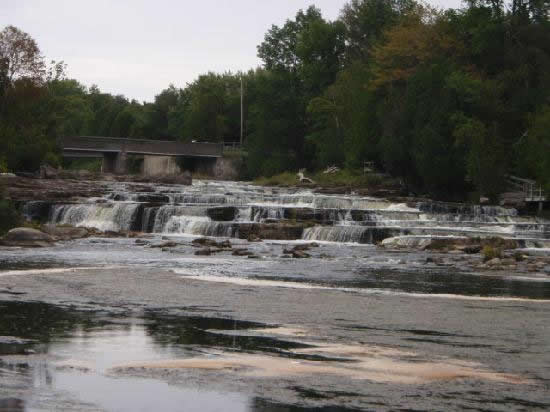 View Website
Sauble Falls Bed & Breakfast
B&B on the Bruce .
By: Laura Aiken
I had always been wary of staying in bed & breakfasts, but for no particular reason. My mind had a million questions and no expectations, which made it perfect fodder for the pages of Bay Area Golfing. For our final recommended route of the year, we've demystified the bed and breakfast experience on a road trip to Sauble Beach, Ontario's left coast.
 It's an easy two hour drive from my home in Wasaga to Sauble, which is effectively driving from the world's longest freshwater beach to the world's second longest freshwater beach. The final destination was Sauble Falls B&B in Wiarton, and my head was buzzing with creative images of my evening there. I didn't know whether I would spend a perfunctory two minutes with owners Gloria and Brian Currie, or if I would be encircled all night by my hosts and all their other guests. I didn't know if I should have brought shampoo. I didn't know much and I didn't ask Gloria any questions on the phone because I wanted to be surprised. And I was, in a very good way, about Huron Shores and the bed and breakfast.
I pulled into Sauble Beach as the accidental tourist who didn't know a thing and found it easily small enough to manage on the fly. A day at Sauble Beach is really a simple three-step process. Have $10 handy for parking (it's the only option besides a couple free hours on the main street if you can get a spot). Leave car behind and foot-cruise the sandy family-friendly beach and smattering of small surf shops and eclectic eateries. Get tired and decide to check-in to your accommodations.
Sauble Falls B&B is a winding five minute tour from the beach. The soft blue two-story home is artfully surrounded by colourful and detailed grounds. The house has a separate guest entrance with code access that leads to a lounge with couches, a table, full kitchen, books and games. Several questions were immediately answered: Is there access to a fridge, wine glasses, barbecue, pretty much anything I can get at home? Check yes to all. The first fundamental difference between standard hotel accommodations and a B&B is that you are likely to have access to the amenities of home. All B&B's differ, but it is a natural inference to make since you are a guest in someone's home. A bed and breakfast, as defined by the Federation of Ontario Bed and Breakfast Accommodation group is "An owner-occupied private residential dwelling that is the owner's principal residence, and in which the owner has control of the environment. It provides temporary accommodation not exceeding 28 consecutive days, and amenities and services auxiliary to guest accommodation including the preparation and service of breakfast for an all-inclusive fee."
Thoughts of breakfast may be skipping ahead, but it's very high on the list of pleasantries. The Currie's fresh fruit, muffins, granola, ham, eggs, coffee and juice made a continental breakfast at a hotel seem unfit for human consumption.
The Currie's residence and the accommodation side divide the house, which is a nice feature for a patron who doesn't want to feel like they are crowded in with their hosts. "I think they should look for a place that's comfortable," Gloria says of what potential guests should look for in a bed and breakfast. "That our idea and what we've striven for. One that is welcoming. One that is convenient for people and has the things you need."
The Currie's have convenience in spades. Their home backs on to the Sauble River, which becomes breathtakingly misty and silent when the sun falls. Across the street is the Sauble Falls Historic Site. Rent canoes or paddleboats, or simply sit on the ledge of a multi-tiered waterfall with ledges at all the right heights for catching water pressure on your back. Cooling off amidst the powerful juxtaposition of loud rushing water and a tranquil river will never be overrated.
Sitting down with the Curries after a splash in the falls solved much of the mystery of what bed and breakfasts are all about. They are the ultimate boutique product of the accommodation market—personal service, highly individualized and socially adventurous. Guests can choose the level of interaction they want to have with the hosts and other guests.
"People who stay in bed and breakfasts are people who aren't afraid to take a risk because they don't know what they're getting until they get here," says Gloria. Perhaps they'll find kinship in their hosts, as purchasing a new venture in life certainly carries an element of risk. The Curries have been running the B&B for six years as a pre-total retirement project. Before tending to guests, Brian was employed in McMaster University's electrical engineering department and Gloria was a nurse in Burlington.
"We'd always stayed in bed and breakfasts and I'd always said it was something I would enjoy…It seemed a little too soon to just totally retire and do nothing but play golf," says Gloria. The Curries purchased the property as a functioning bed and breakfast but it needed work. They renovated the guest wing so each of the four rooms had their own full washroom and then gutted and upgraded their side of the home. The bedrooms vary in size and number of beds. I slept like I was on a Morphine drip in the River Room, a cozy pine and pastel affair overlooking the river. Stepping into my quarters answered more questions: Do I have a key to my room? Are there toiletries in here? Towels? A glass for water? Check yes to all. The Curries supplied all the standard amenities you would receive at a hotel.
Bed and breakfasts are as unique as their owners. Ask questions, allay your uncertainties and enjoy the level of service and comforts of home inherent in the B&B experience.   
Location:
6 Rankin Bridge Road (RR#3) 
Wiarton, Ont N0H 2T0 
(519) 422-3304 
5 Hidden Gems En Route:
Northern Dunes 
Located in Hepworth, this 18-hole golf course blends a links-layout with modern design.
Sauble G&CC
This Hepworth golf course is a walker-friendly 18-hole layout built on an Algonquin Plain. Be sure to stop by Bogey's Pub in the clubhouse.
Saugeen GC
Further up the shores of Lake Huron in Port Elgin lies this pretty 27-hole facility. The original 9 was built by Stanley Thompson. Saugeen offers an all-you-can-play rate of $52.83. 
Chippewa G&CC
This Southampton gem was designed by renowned architect Robbie Robinson.
This scenic 9-hole golf course in Port Elgin brings water hazards and wetlands to the fore.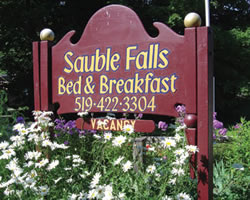 Welcome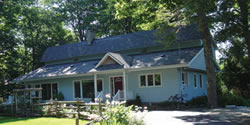 The Inn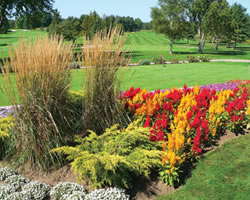 Golf