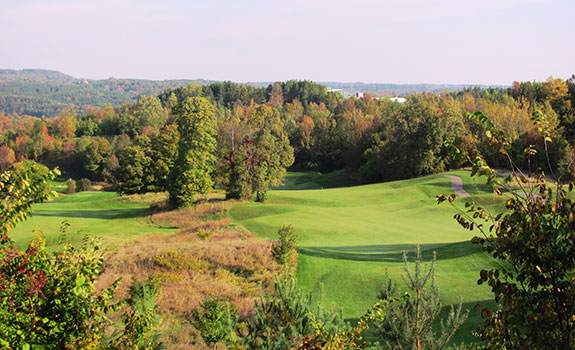 Hockley Valley Resort Golf Club:

Unrivaled Fall Colours
Posted by Alistair Orr


In the planning stages of a fall getaway weekend with a little golf and relaxation but don't want to spent hours and hours in the car? You should consider Hockley Valley Resort in the Hills of Headwaters just a few minutes north of Orangeville. The region boasts the highest elevations that Southern Ontario has to offer and is the birthplace of four major river systems, the Grand, the Humber, the Nottawasaga and the Credit. With spectacular vistas and wonderful seasonal colours awaiting your arrival, it's a wonderful location for a weekend away.
Renowned Canadian golf architect Tom McBroom routed this gem through hillside forests and over the fescue framed slopes that are characteristic of the Hockley Hills creating a layout that is challenging, while still fair, with scenery that takes a backseat to no other course in the region. With a wonderful balance of forest lined fairways, open links land holes and the odd water hazard here and there, McBroom's design offers the scratch player a true shot making test while at the same time presents intermediate handicappers with a playable and enjoyable experience.
Hockley uses four sets of tees ranging from 4695 to 6620 yards but yardage here is a tricky think to calculate because of the many dramatic elevation changes that McBroom worked in to the design. The only flat lies to be found at Hockley are on the opening and closing holes, which are located on the valley floor, with the balance of the course winding its way up, over, around and on top of the hilly terrain.
One of the unique course features you will notice is that there is not a single sand trap to be found anywhere on the property. The greens are well protected by grassy knolls and swales while many fairway landing areas are guarded by well placed sentinel trees or pinched in fescue covered knolls. The greens are relatively small and many feature ridges or tiers but they are not as severely sloped as one might expect from a course situated on such hilly terrain.
Course Stats:
Par 72, 5109 - 7201 yards, rated 65.6 -75.6, slope rating 121 -146
Public access and available to resort guests
Location:
The resort is located on Mono 3rd Line just south off Hockley Road between Airport Road and Hwy 10

Editors Shot Makers Picks:

| | | | | | |
| --- | --- | --- | --- | --- | --- |
| Hole 5 | | Hole 6 | | Hole 7 | |
| Par 3 | HCP | Par 5 | HCP | Par 4 | HCP |
| White | 115 | White | 375 | White | 367 |
| Green | 156 | Green | 451 | Green | 402 |
| Gold | 185 | Gold | 521 | Gold | 431 |
| Black | 212 | Black | 531 | Black | 490 |
Feature Holes Descriptions:
There are numerous notable holes at Hockley but every course seems to have a stretch of holes on each nine that can make or break your round. The featured stretch on the front side at Hockley is located on the links land portion of the course and begins on the fifth tee. At 115 to 212 yards this tough par 3 is a wonderful test from any tee box. Depending on the wind club selection could be anywhere from a short-iron to everything you've got in the bag.* The green complex is protected by mounds front, both right and left, which obstruct the view of the sloping putting surface creating havoc with your depth perception.
The sixth is a tricky par five measuring from 375 to 531 yards and is reachable in two with two healthy wallops. Although the driving landing area is rather generous, the vineyard and fescue right and the hazard left are visual distractions and can shake even the steeliest of nerves. Extra club is needed for an uphill approach requiring precision to navigate the narrow entryway to the green and the putting service is of the two-tiered variety and care must be taken to assure a two put.
At 490 yards from the back tees the seventh hole is truly a beast. This hole requires both length and accuracy of the tee for the fairway is guarded by swales right and falls off to a stand of trees and fescue left. A long iron or fairway wood will be needed for the approach shot that is all carry to a green site protected by a deep fall off short and right. If you manage to par these three holes you are likely to pick up three (or more) shots on the field.
Après Golf at Hockley
Hockley has much more to offer that a great golfing experience. The Bruce Trail cuts through the site for those inclined to trade in their golf shoes for hiking boots or a visit to the resorts' spa to release the tension caused by bogies and lost balls is an option. The Adamo Estate Winery is located adjacent to the resort offering daily tasting's and tours. There are also three dining option on site at the resort, the Cabin, Babbo and Restaurant 85, with 80% of all menu ingredients served grown in the onsite organic fruit and vegetable garden.
The Accommodation Package
For those looking add a little stay with their play the resort offers a stay'n'play package along with several other season getaway packages to suite your needs. Visit:  www.hockley.com for details.
Contact:
Hockley Valley Resort
793522 3rd Line EHS
Mono, ON. L9W 5X7
Tel: 519-942-0754
Toll Free: 1-866-462-5539
GPS Coordinates:
Latitude: 43.976585
Longitude: -80.043713
www.hockley.com