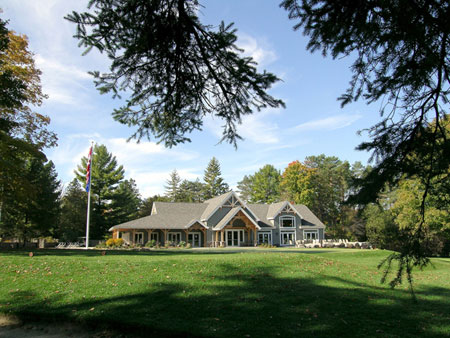 View Website
Windermere G&CC:
95 Years Young
October, 1919: Fire flecked leaves were dropping lazily on the banks of Lake Rosseau, a golden red drizzle of imminent winter moving across the wee village of Windermere.
Meanwhile, its affluent summer residents had returned to Toronto and were busy plotting the development of a golf course for their holiday spot. Land was purchased, and design of the club was appointed to George Cumming, then head professional of the Toronto Golf Club. It was under Cumming that the revered Stanley Thompson got his start as an architect.

Some of the early founders and shareholders of the club were legendary: Britton Bath Osler, a Canadian lawyer who gained fame in helping secure the conviction of Louis Riel for treason, and Mrs. Timothy Eaton; who's last name needs no explanation. Lt. Col. James Cooper Mason served as the first club's first president.
The first game was played in 1920 on nine holes. Three holes were added from 1920 to 1923, then six more between 1925 and 1926. Two holes were then repositioned between 1958 and 1959. The original resorts of the area were Windermere House, Fife House and Maple Leaf Hotel (now Baldwin's). Windermere G&CC still has stay and play packages with Windermere House and Baldwin's.

Some great souls have summered and golfed as members at Windermere. The Millers, a wealthy American family are amongst the club's special members. Undoubtedly, J. Irwin Miller who sadly passed on in August 2004 is missed. Miller, an industrialist and philanthropist, was legendary for his influence on modern architecture in America. Canada's own Billy Bishop was a patron, as was member Hon. Albert Matthews, the longest serving Lieutenant Governor of Ontario.
There must be something uniquely charming about Windermere, the village and its historic course, for people seem to find it easy to return and hard to leave. The 5th hole of the course is the first thing you see as you enter Windermere, essentially leading you into town.
"It's really a neat village. If you're lucky enough to come from here it's tough to leave," says Mark DeActis, director of golf. DeActis has been living in Windermere since joining the team at the golf club nine years ago. Perhaps DeActis' tenure will span as long as Jim MacLeod's, who was head professional at Windermere for 21 years. MacLeod retired in 1993 but is still there, living in a cottage on the fourth hole of the golf course. His golf career took him from his homeland Scotland to Bermuda, then Tyandaga in Burlington before accepting a position at Windermere in 1972.
The club continued to improve between MacLeod's time and now. Golfers will find precisely what they should expect of the oldest golf course in Muskoka. The layout is traditional, with smaller greens and more forgiving fairways. It's easy to walk the 6443 yards. But make no mistake, this 95 year old is no antique to easily break. A par still need to be earned.
A new clubhouse was erected five years ago, a beautiful Normerica design spanning nearly 4000 square feet. The semi-private facility became a member-owned club last year. Ross Wells is the current president, and Jason Eberle is superintendent. Although Windermere celebrates its 90th birthday with modern amenities, some things never change.
"Since the club was incepted, it hasn't wavered at all from its values and traditions of being a family club," says DeActis. "It's been 95 treasured years. "
Where to catch zzz's...
Windermere House
This Muskoka landmark was upgraded in 2008 under new ownership for its 139th season. The new owner is Paul Jeffery, best known for his success as the founder and past chairman of Kelsey's International Inc. The hotel is steps from the golf course and guests have access to preferred rates and tee times. www.windermerehouse.com
The Baldwins Resort
This fixture of Windermere has been hosting guests since the late 1800's. The Main Lodge is the original built in 1905. The resorts offers stay and play packages in spring and fall, ranging from two to five nights and up to four rounds of golf. http://baldwinsresort.com
Paquana Cottage Resort
Golfers will find 12 housekeeping cottages along a private bay on Lake Rosseau. The resort boasts a sandy beach ideal for children and 10 acres of Muskoka wilderness. Paquana partners with Windermere G&CC for reduced rates in the spring and fall. www.paquana.com