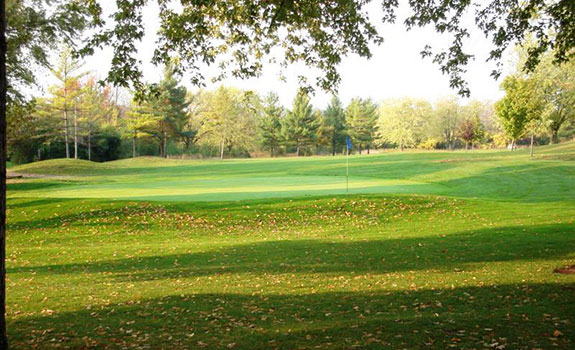 Make Time for 9
Unique 9 hole golfing experiences in the Central Counties
Posted by Alistair Orr
If you find yourself out and about in the Central Counties and you are looking to try to squeeze in a quick nine before dark or are looking for an unique Saturday afternoon nine and dine experience there is a great collection of 9 hole, executive and par 3 courses spread out across the region from which to choose. Just because these are not 18-hole championship layouts does not mean that a great golfing experience can't be had.
In the collection or 35 courses listed below you will find enjoy some really unique experiences such as courses that are designed by the likes of legendary Canadian golf course architect Stanley Thompson (Orchard Beach) or award winning Doug Carrick (Calerin). If you have a fondness for the grape, head on over to Bowmanville for nine holes at Cider House Golf Course followed by some on site après golf wine tasting at the Archibald Orchards & Estate Winery. During the summer months Whitby's Eldorado features night golf. Hy-Hope Farm in Ashburn offers an 18-hole executive golf course along with a store and bakery where you can pick up a homemade pie for your post round enjoyment. Some have two distinct sets of tees, such as Erin Heights among others, so if you feel the need to loop around again you can experience a whole different course.
Although fading light is the golfers enemy when it comes to a summer evening game or planning one last fall round it is well worth your time and effort to try to squeeze in one of these unique golfing experience before darkness or the snow falls.
| | | |
| --- | --- | --- |
| Facility | Location | Web |
| Nine Hole Facilities | | |
| Blackwater | Hwy 48, Mt Albert | |
| Calerin | 10th Sideroad, Erin | |
| Carruthers Creek | Lake Ridge Rd, Ajax | |
| Dufferin Glen | 2nd Line, Orangeville | |
| Erin Heights | 8th Line, Erin | |
| Golfers Dream | 2nd Line, Scugog | |
| Iron and Eagle | Mono Twn Line, Orangeville | |
| Lakeview House | Metro Rd, Jackson's Point | 905-722-6622 |
| Meadowland | 6th Line, Amaranth | |
| Orangeville | Willoughby Rd, Orangeville | |
| Orchard Beach | Metro Rd N, Keswick | |
| Pebblestone | Pebblestone Rd, Courtice | |
| Ponderosa | 9th Line, Beeton | 905-729-2585 |
| Riverside | Riverside Dr, Ajax | |
| Salem Ridge | Salem Rd, Ajax | |
| Stonehange | Tauton Rd, Bowmanville | |
| | | |
| Executive or Par 3 | | |
| Bathurst Glen | Bathurst St, Richmond Hill | |
| Canterbury | Waterbury Cr, Port Perry | |
| Carrickmacross | Kirby Rd, Maple | |
| Carruthers Creek | Lake Ridge Rd, Ajax | |
| Cider House | Liberty St N, Bowmanville | |
| Country Lane | Country Lane Rd, Whitby | 905-655-3263 |
| Cresthaven | McCowan, Markham | |
| Durham Centre | Tauton Rd, Oshawa | 905-433-1506 |
| Eldorado | Winchester Rd E, Whitby | |
| Fox Run | Tauton Rd W, Ajax | |
| Harmony Creek | Bloor St E, Oshawa | |
| Hawthorne Valley | Salem Rd S, Pickering | |
| Hidden Ridge | Zephyr Rd, Zephyr | 905-473-1636 |
| Hy-Hope | Lake Ridge N, Ashburn | |
| Lynbrook | County Rd 10, Orangeville | |
| Oshawa Airport | Thornton N, Oshawa | |
| Quarry Lakes | Durham Rd 57, Bowmanville | |
| Spring Creek | 9th Concession, Claremont | |
| Summerlea | Russell Rd, Port Perry | |