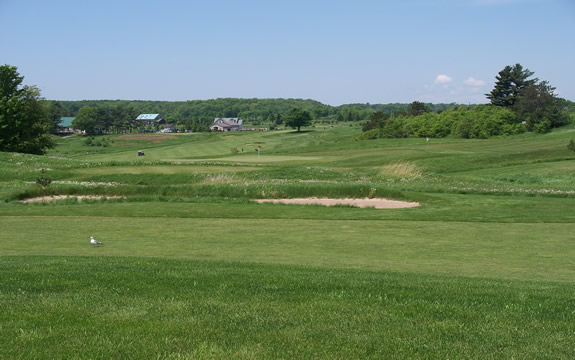 Muskoka Highlands:
Not a Typical Muskoka Golf Experience
By: Missing Links
Muskoka golf has a reputation of having a granite face. On the western outskirts of Bracebridge, lies a unique golf experience that breaks that mould.
The tagline "A Wee Touch of Scotland," is a theme characterized throughout the facility. Muskoka Highlands broke the rock focused design trend with its links style windswept fairways and exposed greens. Opened in 1993, this near treeless layout epitomizes the Scottish links, with long grass, steep faced bunkers, and blowing winds. You might even catch owner Don McKay in his tam and knickers when you arrive.
Built with attention to designing a truly links style course, the focus is on shot making not power. Length is not the primary requirement for success but keeping the ball out of the long stuff is a must. The extremely walkable layout features deep nasty rough framing gentle rolling fairways and greens approachable both by ground and by air. Tricky greens with just the right amount of roll places a premium on the approaches. Water is an integral part of play on a few holes, but the smart player will not need to worry about bringing a ball retriever with them.
Relatively short, this 6000 yard experience is fun and challenging at the same time. Opening with a well designed and challenging dog-leg par 4 protected on the left by the signature thick grass in the Scottish-gorse motif, gives you the feel of what's to come. Hole three, a dog-leg right par 5, tempts you to cut the corner over the deep stuff, however, a big number awaits the failed attempt. The final three holes are a superb stretch. Seven a lengthy par 3 has a partially blind green and fall off behind. Signature number eight is a short iron off a granite cliff to a well protected raised green, while the lengthy nineth is a par 5 gently rising to a green well guarded by a deep facing bunker set below the quaint clubhouse balcony.
The back nine plays nearly 400 yards shorter, but it is by no means a pushover. The par 3 10th is a stern beginning to your inward side. Protected by a large pond on the left to swallow anything short or miss-struck. Precision and courage are essential at this tee. Numbers 11, 12 and 14 are short, risk-reward par 4's that make you think about those elusive eagles. Careful not to get too greedy, water and heavy rough can turn a 2 or 3 quickly into a 6 or worse. The stern par 5, 16th requires two well struck shots, usually against the prevailing wind to have that last true birdie chance. Finishing with the uphill 18th and its long deep green, brings a fitting close to your Scottish-style round.
Owner Don McKay and his staff have created a casual family atmosphere at Muskoka Highlands with lots of attention to your golf experience. Reasonable rates from $20 - $50 dollars for 18 holes plus cart won't break you budget and will give you a memorable links
style round with charm and character.
Contact:
Muskoka Highlands Golf Club
1036 South Monck Dr.
Bracebridge, Ontario
P1L 1W8
(705) 646-1060
(filed spring 2012)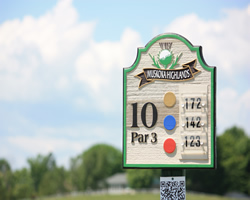 Good luck!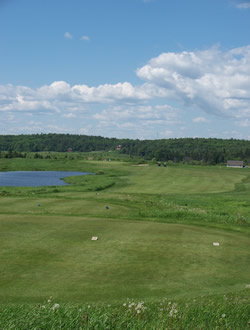 Hole 14