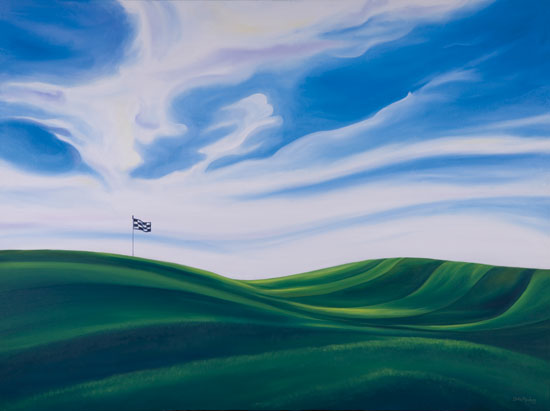 FORESIGHT: The Art of Golf
By Laura Aiken
Part one in our Art of Golf Series
Linda Mackey began studying painting under Alice Forestell when she was 12, continuing her education at York University's Fine Arts program and Ryerson's Graphic Arts Management program. She is the artist in residence for the Toronto Catholic School Board and is the director of Arctic Quest, a group of artists celebrating 100 years of the northwest passage. Her painting, Follow Your Dreams, was presented to the former Lieutenant Governor James Bartleman. Mackey has earned several awards for her work, which appear in exhibitions across Canada, America and England.
A golf course is carved from a plot of earth like a sculpture is born from a ball of clay, both emerging from the ingenuity of human imagination. The union of art and golf is only natural, and no one does it with the panache of the Club at Bond Head's art gallery. Their pristine clubhouse perches like an elegant Siamese over 180 degrees of golf. Meander slowly through the halls and savour the local and international talent carefully chosen by the expert eye of artist and gallery manager Linda Mackey.
"In the beginning the whole idea was a world class club with world class art, so it was very exciting to pull those together," she says. Although Mackey is not a golfer, the artist in her is drawn to the golf course. Married to a golfer for 20 years (although no longer), she spent time sketching and photographing rather than playing.
"No matter what's going on in your life or how stressed you might feel, just being out on the golf course takes away absolutely everything," she says. The atmosphere and the tales of golf she heard sowed the seeds for golf art that blossomed after a trip to the high Arctic in 2002. There, she fell in love with the simplified, sculptural landscape she sees echoed in the terrain of golf.
"I love the rhythm of the courses and I also love to tell a story, so I love combining the visual aesthetics of the course with the story, like that of Racing Green, where the ball runs so fast and everything was pointing towards that hole. I was amazed when I came around the corner and even the clouds seemed to be pointing towards the flag."
The large, graphic nature of her Racing Green painting reflects Mackey's current style, the one she describes as being of her heart, and is a departure from her former traditional work. The bold approach of this particular piece is captured well through oil, her favourite medium. One can't help but wonder how long it takes to birth such a captivating scene with a $3200 price tag?
"Thirty years of practice," says Mackey with a laugh, adding that often people look at the value of a painting in terms of how many hours in takes to make, and art just doesn't apply to an hourly rate. "I've been painting for 30 years and you really have to get your name out there. I'm a single mom, so when you take the starving artist and the single mom, it means long hours…You need to get out there to shows, you need to get up at 5:00 am and paint, get your art out there and keep painting."
Thirty years in the art world, as a painter, group leader, teacher and manager, bode well for her expertise in art investment and role as a gallery manager. Mackey consults on personal and corporate art purchases, standing by her staunch value in original work. She says the calibre of art at Bond Head is not usually a spur of the moment decision and the number one thing to consider is that you love the painting. Next consider whether it is an emerging artist with promise who is practicing and regularly exhibiting. Mackey is a former studio assistant to Doris McArthy, and points to her as an example where people purchased her work for $100 or $200 years ago and now it has appreciated to $40,000.
However, falling in love with the perfect piece of art will always be priceless.