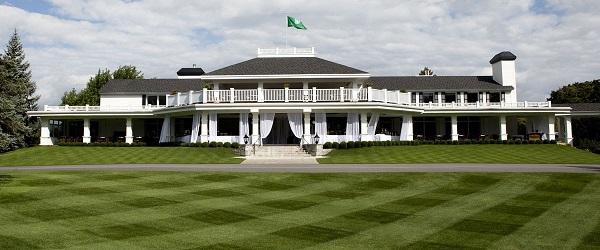 Le Club Laval-sur-le-Lac:

A Shot Makers Paradise in Suburban Montreal
Posted by Alistair Orr


When the opportunity arises to play a course for the first time it is rare that that I will go in without some kind of preconceived notion of what I am about to see. Either I have read about the layout someplace or someone has given me their blow-by-blow description and opinion of the course. Dismissing these opinions can be difficult. So when the Golf Journalist Association of Canada members were invited by the folks at Le Club Laval-sur-le-Lac to have a look at the recent Mike Weir/Ian Andrew redesign of the Parcours Bleu layout, I purposefully did not peek at the web site nor did I do any prior research on the facility before playing. I am so glad I went in flying blind. Having a blank slate for an opinion going in, opened my eyes to the rebirth of this spectacular shot maker's layout.

The club is located in the tony suburb of Laval-sur-le-Lac on the most westerly tip of Ile de Laval, a mere stone's throw from the shores of Lac des Deux Montagne and less than an hour from downtown Montreal. With a storied history dating back to 1917 when the club was conceived a group of French Canadian business men. Scottish golf course architect Willie Park Jr. was brought in to design the original 9 holes later to expanded to 18 in 1927. A third nine was added in 1967 by Howard Watson followed by Graham Cooke's upgrading and completion of the second 18 in 1992. In 2011 Weir and Andrews came in and completely refashioned the Parcours Bleu routing.
With seven combinations of tees, ranging from 4945 to 7221 yards, there is an ideal distance on Parcours Bleu for golfers of any ability. The tree lined fairways are routed around and over a fairly hilly piece of property with a great many holes presenting elevated green complexes with closely mown fall-offs that will repel shots that flirt with the edges of the putting surface. The course is replete with sharp doglegs and risk / reward decisions that allows the player scoring opportunities. However, you have to pick your spots well for poor execution or poor decision making will cost you dearly.  Le Club is primarily a thinking man's course, however, there are plenty of opportunities to flex your muscles making this course both a challenge and a ton of fun to play.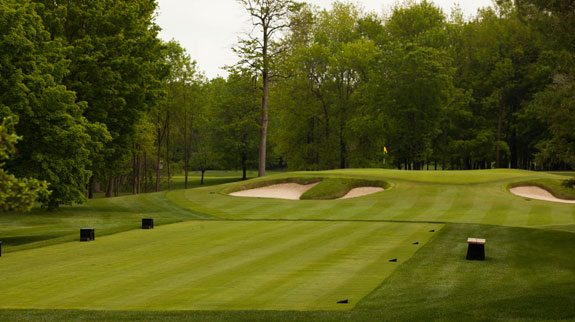 Course Stats:
Par 71
| | | | |
| --- | --- | --- | --- |
| Par 71 | Yardage | Rating/Slope-M | Rating/Slope-F |
| Championnat | | 76.0 / 143 | |
| Bleu | | 73.6 / 137 | |
| Bleu-Blanc | | 71.5 / 134 | |
| Blanc | | 70.1 / 130 | |
| Blanc-Vert | | 68.6 / 127 | |
| Vert | | 67.2 / 123 | |
| Rouge | | 65.1 / 119 | |
Access: Private
Location:
Laval-sur-le-Lac, Quebec
| | | | |
| --- | --- | --- | --- |
| Editor's Shot Maker's Picks | Hole 6 | Hole 7 | Hole 8 |
| Par | Par 3 | Par 3 | Par 4 |
| Championnat | 231 | 333 | 447 |
| Bleu | 195 | 306 | 422 |
| Blanc | 180 | 267 | 316 |
| Vert | 118 | 239 | 308 |
| Rouge | 109 | 229 | 281 |
| HCP-Men | 13 | 17 | 11 |
| HCP-Women | 1 | 13 | 15 |
Feature Holes Descriptions:
The stretch of holes 6 through 8 were named to the shot maker's collection because they typify the nature of the course as a whole by offering multiple ways to tackle the routings successfully. You can either exercise your brains through employing a conservative methodical approach or try to conquer par utilizing a brawny griping-it-and-ripping-it strategy.  

The par 3 sixth hole measures up to 231 yards and requires an approach shot to carry a fronting pond to a green site that slopes from back to front and falls off to the left. The conservative player will aim for the right side of the green working the ball back towards the centre. The aggressive player will challenge the pin with a high approach using the back stop behind the pin setting up a birdie putt. Long will leave a nasty downhill chip and short will have you reaching for your ball scoop.

The drivable 7th hole is a spectacular risk / reward par four. A right side pond is in play from the landing area onwards and wraps around the right side of the green. A large fairway bunker haunts the left side some 50 to 60 yards shy of the putting surface and is accompanied by a deep green side trap. The green slopes away from the centre in every direction and any ball directed towards the right side of the green is in danger of finding the water. The prudent player will lay back off the tee and then attempt to finesse a wedge shot to this tricky green. The daring bomber can attempt to go directly at the green but danger lurks all around. Anything hit right gets wet while the left side has sand or a swale leaving a nerve jangling chip to the green that falls away to the water on the far side.

Number 8 is a lengthy dogleg right par 4 with the landing area protected by over-hanging trees right and a pond left. The bold player will attack the hole by shaping their driver left to right  and try to take the ball as far up the fairway a possible leaving an uphill short or mid iron to an elevated, well protected, false fronted green complex. Cut the corner too much and the trees will grab your shot while the straight ball will find the pond. The conservative player will smooth a 3-wood or utility club left of centre taking the water and trees out of play, however, a demanding mid or long iron approach remains. 
*The club hosted the Canadian Open in 1962, which was won by Ted Kroll by two shots over Charles Sifford. Although Kroll is not a household name today he was a deserving winner and a force on tour in his prime. This eight time winner topped the PGA money list in 1956, played on three Ryder Cup teams and became only the 3rd player in history to shoot 60 during a PGA tournament.
Contact:
Le Club Laval-sur-le-Lac
150 rue Les Peupliers,
Laval-sur-le-Lac (Québec)
H7R 1G4

450 627-2643