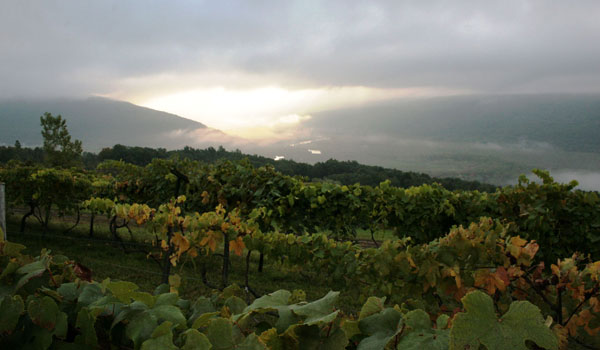 Finger Lakes Wine Trail
On the Trail in New York State
The Tale of Two Trails: Golf in Cattaraugus-McLean Country and The Finger Lakes
Posted by Alistair Orr & Rick Parnham
With the eyes of the golfing world focused squarely on Oak Hill Country Club in Rochester NY for the 2013 PGA Championship we decided to bring attention so some of the other great golfing opportunities that Western New York and the Finger Lakes district has to offer. Within a 45 minute drive of Rochester you will find over 60 golf courses including the four that make up the Finger Lakes Golf Trail. Cast your gaze farther west and you will find the Cattataugus – McKean County Trail which boasts 13 courses spread over two counties in Western New York and Northern Pennsylvania.
The Cattaraugus - McKean County Golf Trail: Two Counties, Two States, Close to Home
A newcomer to the golf trail scene, The Cattaraugus - McKean County Golf Trail is a short dash from the border and covers 13 locales along the historic Allegheny River Valley. Nestled in the rugged southern tier of Western New York and Northern Pennsylvania, this spectacular corridor of natural beauty is home to an exciting destination for those looking for a great value golf get-away.
A right turn from the Peace Bridge in Buffalo connects you with US 219. Driving south you are greeted by the beautiful rolling hills, valleys and rugged mountain landscapes of the government protected Allegheny National Forest. This half million acres of natural beauty surrounding the enormous Allegheny Reservoir is the namesake of the ancient river way used by generations of First Nations. Today it provides any outdoor lover with a world of trails, waterways and wilderness.
The area is not just a nature lover's destination. Those looking for more of a sense of humanity are not without unique experiences and entertainment.  This little piece of Mother Nature's canvas is dotted with charming villages and towns that provide a home to museums, culture, entertainment and great food. Many are familiar with the quaint vacation town of Ellicottville attracting thousands to the ski hills, concerts and festivals that fill the calendar. A storybook main street lined with shops, boutiques and eateries caters to both the ski and summer crowds. There is no shortage of excitement in town with year round events and plenty of places to snuggle up to a cozy stool, enjoy a meal or libation or two at one of the many clubs. The centerpiece to the village is Holiday Valley, the ski / golf complex that is also the host to many music festivals and wide range of lodging and dining options for your visit. ellicottvilleny.com
The Pennsylvania gateway leads to Bradford and its long connection to the oil industry. Home to the first billion dollar oil field, Bradford's eclectic core is now best known as the home to an American icon, the Zippo lighter. Manufactured in town since 1933, a visit to the recently renovated Zippo / Case Museum is a must see. The nearby Kinzua Skywalk, a massive trestle bridge dating back to the late 1800's, partially collapsed by a tornado, gives a glimpse into the areas industrious past and the power of Mother Nature.
Trail golf options are plenty and varied. Ranging from Holiday Valley's Double Black Diamond and its highly acclaimed redesign playing up and down the ski slopes, to Penn Hills, the private Walter Travis design, to the Kane Country Club's century old beauty and everything in between. Featuring a mix of 18 and nine hole facilities you can play as much as you like or build a trip to include golf with the variety of activities this areas has to offer. This collection isn't made of world-class facilities with their big price tag, but you will experience creative layouts, great value and splendid hospitality.  
Accommodations along the Trail are as varied as the golf experiences. Charming B&B's, chain hotels and unique resort properties welcome Trail visitors. The Seneca Allegheny Casino and Resort in Salamanca hosts guests looking for a little thrill to accompany the refined luxury of a stay at the state of the art complex. The Tamarack Club provides elegance and comfort at the clubhouse at Holiday Valley. The Lodge at Glendorn is an enchanted resort providing guests with a pampered elegance in a beautiful natural setting. This romantic enclave is a perfect locale to rejuvenate and reconnect without a care in the world. Whatever type of stay and play option you seek it can be found here.
The Cattaraugus - McKean County Golf Trail is a blend of great value golf in an area rife with opportunities to be captivated by all the Allegheny National Forest can offer. A blend of primitive to pampered lets you decide which experience is right for you. A quick hitter from the border, this newcomer to the golf trail scene should get consideration as a destination for fun, and memories.
For more information on the Cattaraugus - McKean County Golf Trail visit: www.visitanf.com/golf
The Golf Online
Bartlett: Olean; 18 holes bartlettcountryclub.com
Birch Run: Alegany; 9 holes birchrungolfclub.com
Black Diamond; Ellicottville; 18 holes holidayvalley.com
Cardinal Hills: Randolph; 18 holes cardinalhillsny.com
Elkdale: Salamanca; 18 holes elkdalecc.com
Ischua Valley: Franklinville; 9 Holes facebook.com/IschuaValleyCountryClub
Kane: Kane; 18 holes kanecountryclub.com
Penhills: Bradford; 18 holes pennhillsclub.com
Pine Acers: Bradford; 18 holes pineacrescc.com
St. Bonaventure: Alegany; 9 holes 716-372-7692
Smethport: Smethport; 9 holes smethportcc.com
Turkey Run: Arcade; 9 Holes turkeyrungolfcourse.com
Waterway Hills: Cuba; 18 holes  waterwayhills.com
The Finger Lakes Golf Trail: Golf and Après in Wine Country
If you are planning on taking in the PGA Championship this summer consider taking a few extra days to poke around the world famous Finger Lakes region and tackle four of the most challenging and picturesque area courses which make up the Finger Lakes Golf Trail. The golf courses at Mill Creek, Bristol Harbour, Greystone and Ravenwood have teamed up with accommodation partners Bristol Harbour Resort (Canandaigua), Woodcliff Hotel and Spa (Fairport), The Holiday Inn Express (Victor), Hampton Inn (Victor) and the Best Western (Victor) to offer a variety of stay & play opportunities.
The Golf
Located in Victor just off the I90 Ravenwood is one of the Finger Lakes' premier championship courses and is known for its superb conditioning. Architect Robin Nelson crafted a beautifully playable course that is equally as challenging to the low handicapper as it is an enjoyable experience for the average golfer. This walkable course is routed through gently undulating terrain that flows seamlessly from one hole to the next. ravenwoodgolf.com
At 6,700 yards Bristol Harbour is a Robert Trent Jones gem and is a tale of two nines. The outward nine is fairly wide open with magnificent views of the Canandaigua Lake and the surrounding hillsides while the inward nine is carved through the woods and presents the beautiful scenery of the Bristol Hills. bristolharbour.com.
Situated on the highest point in Monroe County in Churchville, Mill Creek boasts views of Rochester's skyline to the east and the rolling hills of the Finger Lakes to the south. Set on 320 acres that features windswept fescues, forested rolling hills, creeks and waterfalls Mill Creek uses five sets of tees with yardages ranging from 4900 to 7000 and is designed to accommodate the novice and single digit handicap alike. millcreekgolf.com
Greystone, located in Walworth, is a Craig Schreiner designed golf course and brings a unique experience to this part of the country with its pot bunker, tall native grasses, large undulating greens and the 9th and 18th pins share a green. At 7215 yards it is the longest of the partner courses on the Finger Lakes Golf Trail but with four tee boxes it offers a fair challenge for players of all levels. rochestergolfcourses.com
For information on Finger Lakes Golf Trail packages contact: (866) 969-3558 or visit fingerlakesgolftrail.com
The Trail Après the Trail
For those who have a taste for the grape time spent après golf touring the Canandaigua Wine Trail is a must. The Trail is a collection of award-winning wineries, wine centers, restaurants, shops, art galleries and scenic attractions surrounding Canandaigua Lake. The Trail winds its way through the Victor, Canandaigua and Naples communities with each offering its own distinctive experiences. The artistic gifts of local Finger Lake artists are staple wears for local art galleries and are a highlight of the Wine Trail.
Visit www.canandaiguawinetrail.com for details.
The Wine Online
Arbor Hill Grapery & Winery: Naples; thegrapery.com
Casa Larga Vineyards: Fairport; casalarga.com
Deer Run Winery: Geneseo;  deerrunwinery.com
Eagle Crest Vineyards Inc.: Conesus; eaglecrestvineyards.com
Finger Lakes Wine Center: Canandaigua; fingerlakeswinecenter.com
Hazlitt's Red Cat Cellars: Naples; hazlitt1852.com
Heron Hill at Bristol: Canandaigua; heronhill.com
Inspire Moore Winery: Naples; inspiremoorewinery.com
Raymor Estate Cellars: Bloomfield; raymorcellars.com
Wilhelmus Estate Winery: Canandaigua; wilhelmusestate.com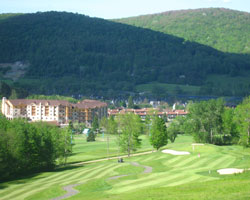 Holiday Valley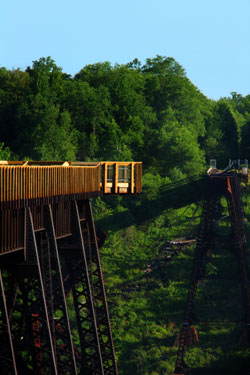 Kinzua Skywalk