Sunriver Resort: Caldera Links
Cupp's Par Three Short Course
Posted by Alistair Orr
Bob Cupp had some fun with the short course at Sunriver. His nine hole par three design is challenging yet fun allowing beginners young and old The Layout offers a chance to play and learn in a friendly environment not having to worry about the pressures of playing on a "big" course, yer offering the design elements you get on a championship track. Simultaneously, low handicap players will find the routing visually stimulating and extremely challenging as Cupp uses ponds, mounding, well positioned green side bunkers and sloping greens to keep you on your toes.
There are two sets of tees with the Red measuring 837 yards and the White 1142 yards. The yardage range of the holes is 65 through 172 yards with the remainder of them measuring somewhere in between. As a result you will find yourself reaching for a surprising number of different clubs from your bag.The ponds come in to play on the majority of holes but there is plenty of space to maneuver around the course and stay dry. However, the home hole will force you to carry the aqua for your final strike of the day. The hole plays between 67 to 100 yards but there is no margin for error for if you come up short you will find yourself reaching for your ball scoop, the bail out left will find the greenside bunker and a shot hit long will leave a tricky downhiller.

The home hole
The course is easily walked and for those who are "Golfboard" certified there is a fleet of golf boards for those wishing to roll around the course. If you are new to the Golfboard scene the club will set you up for a quick online tutorial on how to pilot the boards. This will get you "Golfboard certified" which will allow you to hop on a board at any golf course offering the program.
Course Stats: Sunriver Resort: Caldera Links Course
| | |
| --- | --- |
| Par 27 | Yardage |
| White | |
| Red | |
Related editorial:
Crosswater: Cupp's Heathland Gem on the Deschutes River
Woodlands: RTJ III Pens a Woodlands Masterpiece
Meadows: John Fought's Homage to the Golden Age of Design
Fun with the Flat Stick: Challenging the Meadows Putting Course
Contact:
Sunriver Resort
17600 Center Drive
Sunriver, OR

855-420-8206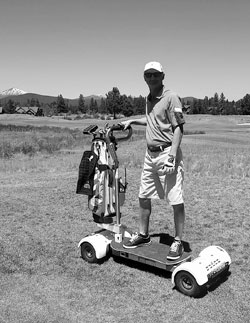 Photos coutesy of Sunriver Resort