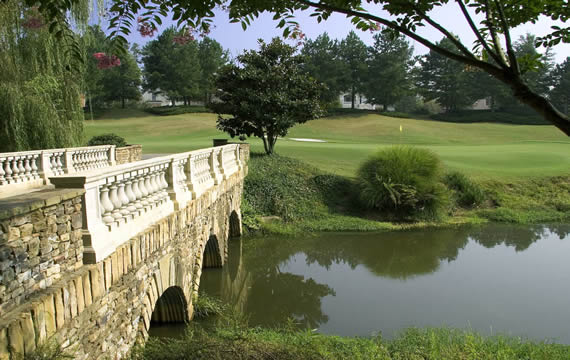 Atlanta Georgia:
Daily Fee Courses
By: Sandy Trapp
Cobblestone Golf Course: Municipal Golf at its Finest
Tucked on the southern shores of Lake Acworth, this terrific municipal course playing between 5400 – 6754 yards and playing to a 73.5 rating and 139 slope, is a real treat to enjoy when in the area. Originally opened in 1993 a recent renovation of the bunkers and greens has reaffirmed this delightful affordable golf experience as one deserving of the many local and national accolades it has received. Featuring beautiful lake vistas and creative routing along the shoreline the design produces numerous memorable holes. Holes 2 – 4 use the shoreline to present devilish forced carries mixed with beautiful views and precise shot making. A wide variety of shots are required with the considerable elevation change and combined with tight fairways, a premium on keeping the ball in play is demanded. Hole sixteen may be one of the most challenging par 3's you will experience, as the small kidney-shaped, lakeside green is protected by a trench bunker and water. A back right pin is merely a pipe dream to get close. Great rates of ranging from $45 – 65 including cart and terrific junior rates as well, make this a place to be enjoyed. Owned by Cobb County, this treasure features a cast of water holes that range from stunning, to scary and everything in between.
St. Marlo Country Club: Suburban Public Golfing
Suburban Duluth is home to St. Marlo Country Club, a semi-private experience set amidst the backdrop of grand home-sites and rugged landscapes. Many of the holes play with lots of up or down, while the others are routed along or across tricky water hazards that wait to swallow anything struck less than perfectly. This 1995, Denis Griffiths design playing between 5085 and 6923 yards is artistically accented with beautiful bridges and stonewalls, but it is the challenge of the holes that really makes this layout a pleasure to play. The theme of the design is set with the massive downhill opening hole guarded on the right by a pond. Massive downhill Hole 14 tests everything you have with a second shot to a sliver of green protected by a rock wall and creek. With affordable rates, great visuals and some unforgettable holes, St. Marlo impresses as one of the many premier daily fee public access courses that dot the rolling hills north-east of the city.
Atlanta (home page)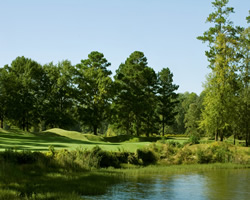 Cobblestone 4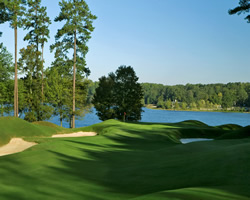 Lake Acworth vistas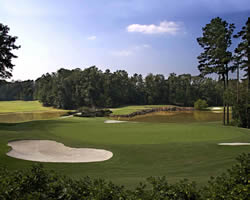 St Marlo 7