Signature Grey Stone Walls

Birdies and Beer in Music City:
An Excursion to Nashville's Fairwys and Flights. (Part 3)
Posted by: Rick Parnham
With the onset of the late fall cold weather closing down the golf business in Ontario, my longtime golf buddy and I turned our eyes south to look for warmer climes to get in a few more swings in an attempt to extend our golf season. Pointing our car south we headed to the intriguing city of Nashville for four rounds of golf and a nightly foray into the city's lively beverage scene.
A Visit to Gaylord Springs Golf Links at the Opreyland Resort:
Nashville is synonymous with country music due in large part to the Grand Ole Opry and its rich history. Tens of thousands have been drawn to Nashville each year to soak up the twangy tunes since its inaugural radio show in 1925. The current home to the Opry stage, located a short drive northeast of downtown and along the banks of the Cumberland River, is a major tourist draw featuring a massive resort hotel complex with over 2700 rooms, an outlet mall and the Country Music Hall of Fame. The resort is also home to a fun and challenging test of golf.
The Challenging Par 3 Number 11
Tightly routed over a plateau along the banks of the Cumberland, two-time major champ Larry Nelson crafted a pleasurable links-style experience. Playing through grassy mounds and over and around a variety of wetlands and ponds, the course offers beautiful views of the river and stark limestone cliffs. The course opens with a pair of holes that parallel the flowing river waters which lead to the first trio of terrific shot making holes. The third is a mid-length par 3, requiring an extra club to reach the raised green perched above a weedy waste area and ringed with bunkers. The 4th is a short par 4, but filled with challenge. The dogleg left has water entirely down the left crossing in front of the green protecting the long narrow and elevated green. The beastly par 4 5th plays as the hardest on the layout. The drive presents choice, aggressively take on the pond to shorten your approach, or bail out to the right of the
water and be left with a fairway wood or hybrid into a long narrow green guarded on the left by thorny brambles and on the right by a long serpentine bunker.
The back nine offers a similar feel with more meandering fairways amid mounding and hollows. The short holes are the stand out designs on this side. The 13th forces a tee shot across a huge pond to a green laying at the foot of a rugged rocky face. The penultimate hole is a challenging test of par. Playing well over 200 yards from the tips, the tee shot needs to be exact, threading between a line of trees left of the green and avoiding the steep fall-away on the right. The finishing hole is a brute of a par 4 demanding two mighty whacks to get home and face the daunting task of the sloping green. The former home to the Champions Tour Music City Championship (1994-2003)is a most playable round and great addition to an Opryland visit. Played from the correct tees, your day will lend itself to a number of great
shot making opportunities. Attention must be paid to the greens as the work with the flat stick will make or break your final tally. As an aside, have a look for the course's unofficial mascot, Doyle. He is a rescue dog, who most surely will make an appearance over the course of your round. www.gaylordsprings.com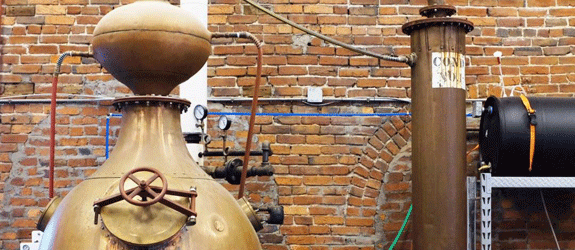 A Change of Pace at Corsiar Distillery's Motorworks Location
Our last night in town took us to downtown and a visit to Corsair, a boutique distillery a couple blocks from the state capitol. We were looking for something different and found a terrific taproom of high gravity, small batch beers, along with a unique sampling of delicious whiskys made in their "Brewstillery" Housed in the historic Marathon Motorworks building the bountiful beverages were merely one half the experience, as a tour through the building takes one back to the early 20th Century industrial times and all the amazing machinery and technology from yesteryear. www.corsairdistillery.com [see more on Corsair here...]
Gaylord Springs G.L.: Par 72
| Tees | Yards | Rating | Slope |
| --- | --- | --- | --- |
| Black | 6842 | 73.1 | 133 |
| Gold | 6512 | 71.6 | 130 |
| Blue | 6165 | 69.8 | 127 |
| White | 5759 | 68.3 | 118 |
| Red | 5040 | 69.3 | 115 |