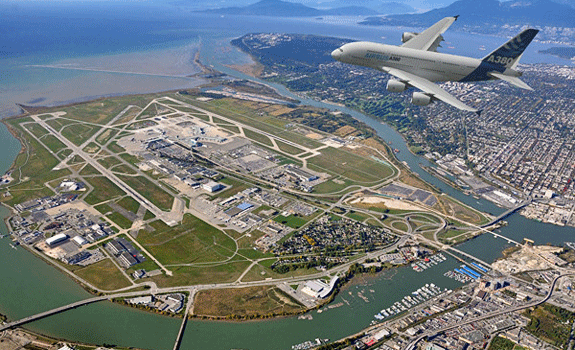 Airport Golf Experiences:

Starting or Ending Your Vacation on the Links.

Whether you are taking a summer vacation or enjoying a get-away during the holiday weeks at other times of the year, a golf outing can be a great addition to any trip. Having spent considerable time in the air over the years, one of the first things I look for is the nearest golf course to my destination airport. If I'm on a golf junket, a warm-up round is a great way to refresh after a lengthy flight, while sneaking in a few holes before departure is as good a way to clear your mind of the anxiety of what is to come on your flight. No matter where your travels take you, fitting in a round at the beginning or end of your stay is a terrific idea. And one never knows when your flight could be delayed long enough for quick nine holes to fill your time. My criteria to be considered an "airport course" is that it must be within a 20 minute drive from the runway. With this benchmark in mind here are some of my suggestions of worthwhile course to visit should you find yourself with time to spare in these cities.
Portland: Colwood Golf Center is a fantastic nine-hole par 3 course featuring two sets of tees and two different holes on each of the greens. Complete with driving range, seven practice greens, foot golf and an awesome outdoor patio for some food and a bevy, Colwood has it all. [On TheTee Review]
Oakland: Metropolitan Golf Links is so close to the runway that the landing lights fill one of the swales between holes on the front nine. This Johnny Miller design is built on a windswept acreage void of trees and featuring outstanding views of the Bay. Played on a breezy day you will hear Miller's sarcasm and pointed whit as your ball is at the mercy of the conditions.
San Francisco: Not often are host sites of major championships available to public players, but TPC Harding Park is one of those venues. Hosting the PGA Championship in 2020 and President's Cup in 2025, this historic design is a real test. Also home to a nine hole course, a visit here has something to suit whatever golf need you have. [On TheTee Review]
Phoenix: Papago Golf Course is a wonderful municipal golf experience that will surprise you with the quality of design. Opened in 1963 the course continues to be updated and provides a stern test of your game. Offering great views of the city and beyond, the park setting is a perfect place to play in this golf rich city. [Course Website]
Las Vegas: Golf on the Vegas Strip is had at one of the premiere facilities in the city at Bali Hai. Themed as a Indonesian golf adventure, the course has been a favorite since it opened in 2000. Tall palms and steep sided fairways provide some seclusion amid the hotels and airplanes overhead. [Course Website]
San Antonio: Two entirely different nines are found at the Quarry Golf Course. The parkland style front side is routed around a suburban commercial district and features five ponds. The back side dives into a century old cement quarry and features stunning rugged finish to your round. [On TheTee Review]
Memphis: Now home to the WGC Fed-Ex St. Jude Invitational, TPC Southwind is a stern test PGA Tour worthy. The course is private but part of the TPC collection of courses. Played with a backdrop of estate homes and the world headquarters of Fed-Ex, this parkland treat is both a visual beauty and challenging beast. [Course Website]
Nashville: Hermitage Golf Course boasts two championship routings to satisfy any golf need or want. Built along the reaches of the Cumberland River, there is no shortage of quality golf to be had. With onsite cottages to rent this is the perfect place to launch a Nashville visit or to fit in 36 the night before you fly home. [On TheTee Review]
Miami: Regardless of your political slant, Trump National Doral Miami is a remarkable golf resort. Opulence, grand designs and a South Beach vibe all make for a unique experience. Featuring four courses, including the former PGA venue Blue Monster, terrific stay and play packages make a visit here affordable and memorable. [Course Website]
Savannah: The gateway to Hilton Head and the Lowcountry and the dozens of area courses gives plenty of options. The Club at Savannah Harbor Golf Resort is a Bob Cupp and Sam Snead design routed on an island in the middle of the Savannah River and part of a fantastic hotel option, providing remarkable views of downtown. [On TheTee Review]
Charleston: Historic Charleston Harbor is home to Patriots Point Links. Built next to the vast military museum complex with outstanding views of the city and Fort Sumter and beyond, the island green, penultimate hole is well worth the green fee by itself. Affordable and very playable, this course is a must in the Lowcountry. [On TheTee Review]
St. John's: Newfoundland's largest golf complex is found at Clovelly. It has two Graham Cooke designs not only providing convenience, but options based on how much time you have. The Osprey is a full length test, while the Black Duck offers an executive choice to enjoy a few swings and the ruggedness of "The Rock." [Course Website]
Daytona: LPGA International is Daytona's most recognized name in a long list of public golf facilities. Home to the LPGA headquarters and two special designs by Rees Jones and Arthur Hills providing very different challenges. A stroll where the pros play is always a thrill and usually a humbling experience to boot. [On TheTee Review]
Toronto: Royal Woodbine Golf Club is a Dr. Michael Hurdzan design, tactfully laid within the tight confines along the bank of Mimico Creek. Water is a factor on all holes, some however, more than others. Precise shot making is required to navigate the meandering fairways and tricky green complexes. [Course Website]
Chicago: The Windy City has a long list of premiere golf facilities to choose from. The Glen Club, an exquisite Tom Fazio layout on a former air base feels like it has been there forever. The strong collection of par 3's make for a very memorable visit. A quick jaunt to O'Hare makes this a fantastic option for a closing round. [Course Website]
Myrtle Beach: Hopping of a plane and anxious to play, how about a course full of inspired by holes from some of the world's most renowned venues. A stroll through Amen Corner is just one stretch of holes that give you a feel of being all over the world. A chance to play replica holes of places you might only dream to play is a cool experience. [Course Website]
Sarasota: Considered by Golf Digest's Senior Editor Ron Whitten to be a "game changer", Sara Bay is a Donald Ross design fashioned during the golden age of golf course architecture back in 1925. This routing will test your course management skills from tee to green and Ross's classic pushed up green complexes are reminiscent to Pinehursts #2 and will require your full attention with the flat stick. [On TheTee Review]
Fort Myers: A short drive from Southwest Florida International Airport is a splendid Jack Nicklaus design at Old Corkscrew Golf Club. Located within a lush Florida forest, the serene setting has no homesites and a fine collection of fantastic holes. The facility is one of the Gulf Coast's finest public access facilities. [On TheTee Review]
Charlotte: Located minutes from downtown Charlotte on the property of the luxurious Ballantyne Hotel you will find the Golf Club at Ballantyne. Set on a nicely rolling piece of property the routing features strategically placed stands of trees, ponds and great use of meandering creeks to create a parkland oasis within the surrounding business sector. [On TheTee Review]
By no means is this considered the exhaustive and definitive list of airport golf experiences. It is a collection of diverse facilities, each offering something different. Some are municipal treats and some are privileged private enclaves that will take a connection or two to access. Regardless of your reason for travel, adding a golf outing to your itinerary is always a good idea.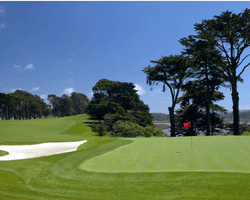 TPC Harding Park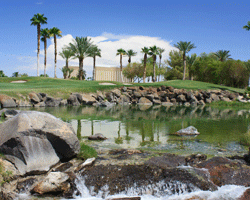 Bali Hai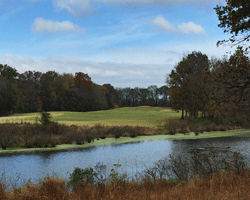 Hermitage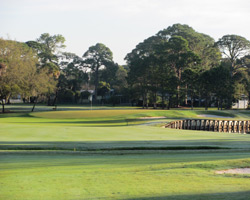 Sara Bay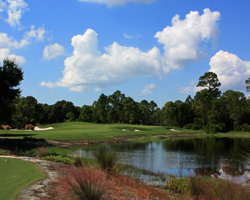 Old Corkscrew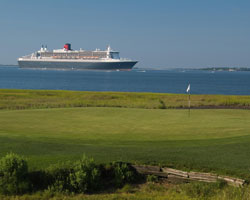 Patriots Point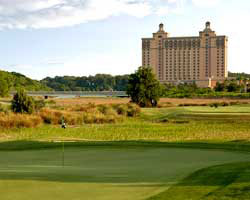 The Club at Savannah Harbor