On The Tee

The Resort at Glade Springs:
West Viginian Mountain Solitude
By Alexander "Sandy" Trapp
The Resort at Glade Springs, a charming complex in the heart of the Appalachian Mountains, boasts a 4100 acre all-season paradise. Whether looking for a touch of pampering, a little R&R or fun and adventure this premier West Virginian resort offers a range of activities and facilities that will satisfy even the most discerning traveler.
Located in Daniels, a quick hop from Interstates 64 and 77, Glade Springs 203 room complex now shares the same ownership as that of the nearby historic Greenbrier Resort. Bringing an infusion of energy and vision to the site through renovations, development and partnering with the Greenbrier, the collection of history, ambiance and activity creates a magnificent Appalachian Mountain experience. An all-seasons playground, The Resort at Glade Springs is more than just a golf resort it is a hub of energy, natural beauty and refined luxury.
Resort accommodations range from traditional hotel rooms and suites to stand-alone villas and lodges. The well appointed rooms and suites of the Inn provide ample comfort and charm for couples; for larger groups a villa or lodge will provide a perfect locale. If looking to capture the private country estate feeling for a large family get together a Manor House, with the ability to host 16 to 32 guests in comfort and style, is ideal.
The Clubhouse is the resort's centerpiece for dining. Home to Bunker's Sport's Bar, the casual dining environment for a quick bite or relaxing après round aperitif, the atmosphere is both inviting and refreshing. For those with a more refined palate, Glade's Bar and Grill provides more elegance for your dining experience. Overlooking the fairways of The Cobb, this is the perfect way to finish a day sampling the refined menu and extensive wine list.
On-site facilities include a full service spa, basketball, tennis, an equestrian center, indoor and outdoor pools, a private lake, bowling center, an arcade and movie theatre. For the outdoor enthusiast miles of recreational trails are readily available while off-site activities such as fly fishing and white water rafting in the New River Valley can be easily arranged. Whether it's a guy's weekend, corporate team building session, family retreat or a "me" day at the spa, the Resort at Glade Springs serves up something special for everyone.
This little piece of amazing Appalachia is a resort that is blessed with a serene natural setting and a multitude of activities to make any stay memorable. Charming and elegant, Glade Springs will provide you with all the golf you need or want and give you time and a place to enjoy the finer things Wild and Wonderful West Virginia has to offer. 
Golf at Glade Springs:
Featuring three unique designs, you'll enjoy some of Appalachia's most memorable holes at this destination golfer's paradise.
The Cobb: Glade Spring's original course was designed in 1972 by George Cobb. Featuring massive greens and wide tree-lined fairways, The Cobb is a delight to experience. Playing at 5400 to 7151 yards this throw-back design is a timeless, welcome pleasure. The front rolls over and through a wide valley, while the back leads you through a series of holes set amidst lakes. Testing your ability to avoid the numerous watery hazards is half the battle. Putting your approach anywhere near the multitude of pin placements on these enormous greens is critical if you wish to avoid enormous putts. Correct club selection and accurate shot placement are essential at The Cobb. Par is no easy feat here as this course has been host to the PGA for Monday qualifiers for the Greenbrier Classic and USGA and state championships.
Stonehaven: Opened in 2003, this 5350 to 7200 yard layout presents a stark contrast to The Cobb. With a more mountain feel, Tom Clark's design uses the landscape to the fullest. Dramatic elevation changes, expansive carries over and around water and creative routing through the vast hardwood forests places you in some of nature's most beautiful spaces. The strength of the layout lies with the par 5 and par 3 holes. Featuring plenty of elevation change forcing correct club selection, these holes challenge your abilities. Holes 4 and 10 are meandering three-shoters that end at charming green sites framed by lakes and rock walls. Signature Hole 16 is a brute playing 601 yards from a cliff-like hillside tee. Paired with The Cobb, Stonehaven is a terrific one-two punch of both traditional and contemporary design.
Woodhaven: A bold addition to the golf facilities, Woodhaven, opened in 2010, is another Tom Clark design is a demanding layout featuring rugged landscapes.  Built on the upper reaches of the resort, elevation change is a key theme to this design. Bold use of river valleys, wetlands, rock faces and hillsides, test every shot on this stern test. Woodhaven offers many holes that could be signatures with dramatic drops, devilish green sites, and strategic shot demands. Drivable par 4, Number 6 requires a perfect shot to thwart the ample risk; Number 8 is a beast of a par 4 crossing a steep valley not once but twice; while the split fairway par 5, 10th is a masterful challenge to your planning and execution skills. Expect to be humbled not only by the challenge of the layout but also by the stunning beauty of the design and surroundings. 
Stay & Play Package: Starting from $209/ person the aptly named The Ultimate Golf package offers unlimited golf at the three courses with cart, range balls, club cleaning and storage. A full breakfast (kids stay & eat free), unlimited tennis, nightly resort service fee, and all state and local taxes are included. Contact the resort for details.
The Resort at Glade Springs 
200 Lake Drive
Daniels, WV 24970
(866) 562-8054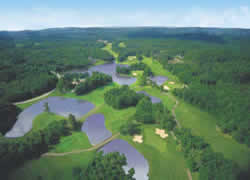 Cobb aerial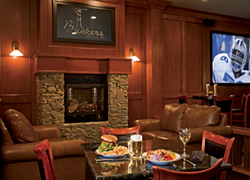 Bunkers
Stonehaven
Cobb 10
The Inn
Woodhaven 5