On The Tee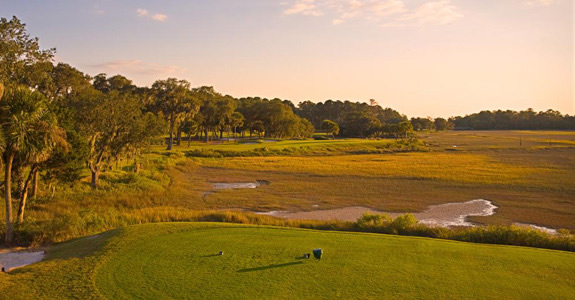 Dataw Island Club:
Cotton Dike Tom Fazio's Coastal Island Beauty.

Located between Beaufort and the stunning coastal sea islands is a charming, private community built around a pair of terrific courses by Arthur Hills and Tom Fazio. This narrow island is home to a gated residential enclave graced with charm, solitude and terrific golf. Built around the beautifully preserved tabby ruins of an historic cotton plantation this vibrant community offers discovery packages for those considering relocation opportunities. The Cotton Dike course, opened in 1985 and fresh off a 2011 "nip and tuck" renovation is a superb coastal, tidewater golf experience.
Course Stats:
Cotton Dike Course Par 72, 5147 - 6799 yards 73.7 / 142
Morgan River Course Par 72, 5037 - 6646 yards 72.9 / 136
Available to guests of members of Dataw Island Club and limited public access
Location:
Beaufort, South Carolina

Editor's Shot Makers Picks:
| | | | |
| --- | --- | --- | --- |
| Hole 5 | | Hole 9 | |
| Par 3 | HCP 11 | Par 5 | HCP 13 |
| Green | 102 | Green | 326 |
| White | 122 | White | 346 |
| Blue | 160 | Blue | 390 |
| Black | 179 | Black | 431 |
Featured Holes Description:
Fazio is known for his trademark playability from the tee. At Cotton Dike he used the stunning waterfront setting to create a cluster of tee shots that require you to contend with forced carries, some that can strike fear in even the most accomplished player. Five holes flirt with the coastal edgewaters. The first encounter with the tides might be the best of the bunch. Hole Five is a stunning par 3 playing 179 yards from the back tees as a forced carry over the namesake cotton dikes. The Ninth, stroke hole number one, demands a heroic tee shot. Playing 431 yards with a sharp dogleg right this hole strikes fear with your decision on how much to cut off for your target. These two holes use the natural coastline brilliantly to challenge your nerve and your score. As an unforgettable close to the round, the finishing hole is a 557 yard par 5 that has the water down the left from tee to green along with the beautiful views afforded of Jenkin's Creek.
Contact:
Dataw Island Club
100 Dataw Club Road
Dataw Island, SC 29920
P. 843-838-8282