On The Tee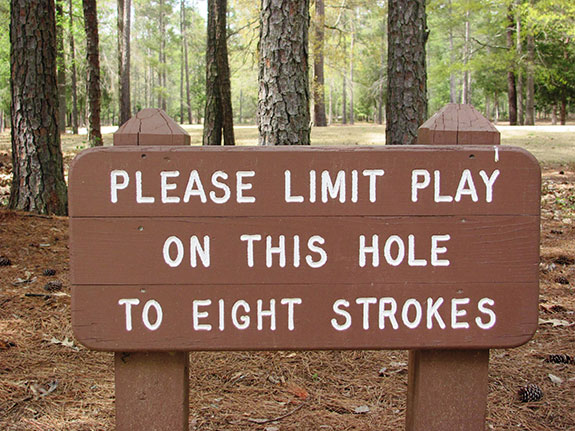 Hickory Knob State Park Resort Golf Course:

Picturesque Scenery, Challenging Shot Making, Great  Value

Posted by Alistair Orr
The motto of the South Carolina State Park system is "Come Out and Play" and that is certainly the focus at the two state parks that are home to on-site Tom Jackson designed championship golf courses, Hickory Knob State Park and Cheraw State Park. Both courses offer terrific value for a quality golfing experience. The Hickory Knob course is routed through the wooded shore line of the 71,000 acre Strom Thurmond reservoir in the heart of the park. Offering wonderful views of the lake from nearly every hole the course presents some dramatic elevation changes and tree lined fairways which will challenge your course management skills and club selection choices.
In addition to golf guests can take advantage of the many après golf activities offered at the resort: fishing, canoeing or kayaking  in Strom Thurman Lake, hiking its 12 mile trial network or enjoying a dip in the swimming pool or lake. Tennis courts, playground equipment and a putting green are located adjacent to the lodge while archery and skeet shooting are available by appointment near by.  Accommodation options include lodge rooms (up to 4 people), one and  two bedroom cabin/villas (up to 6 people) and lake side camp sites are available for the tent and RV set.
Located a mere 56 minutes from Augusta the Resort is a popular lauching point for those embarking on a Masters adventure.
Course Stats:
Par 72, 4972 - 6560 yards 71.9 / 132
Public play
Location:
McCormick, South Carolina
Editor's Shot Makers Picks:

| | | | | | |
| --- | --- | --- | --- | --- | --- |
| Hole 16 | | Hole 17 | | Hole 18 | |
| Par 5 | HCP 4 | Par 3 | HCP 10 | Par 4 | HCP 2 |
| Red | 371 | Red | 104 | Red | 333 |
| Gold | 470 | Gold | 110 | Gold | 345 |
| White | 486 | White | 143 | White | 389 |
| Blue | 511 | Blue | 176 | Blue | 418 |
Description:  The closing three holes ay Hickory Knob are a great par 5, par 3, par 4 combination which offer great risk reward opportunities and a chance to pick up a couple shot coming home but will leave you scratching your head and asking yourself, "what was I thinking", should the reward turn to penalty. The 15th is a reachable par 5, however a large fronting pond and a small green site makes for a formidable target. Anything short or right will be gobbled up by the pond. Club selection is the key to solving the tricky 17th hole. This one shotter is protected by Lake Thurmond on the left and a bunker right and the prevailing winds blowing off the lake add to the challenge. The demanding home hole offers no margin of error for either the tee ball or the approach shot. While in flight the tee ball must split cypress trees left and right while the lake long and left protects the landing area. The second shot must clear a cove in the lake to a narrow green complex.  Coming up short or left will have to reaching for the ball scoop while bailing out right brings a well placed bunker in to play. A five, three, four finish will, undoubtedly, give you bragging rights over drinks in the resort lounge.
Contact:
Hickory Knob State Park
1591 Resort Drive
McCormick, SC. 29928
(864) 391-2450
[Web Site]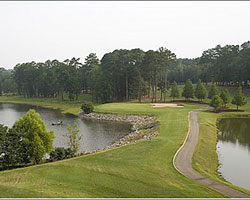 #16