On The Tee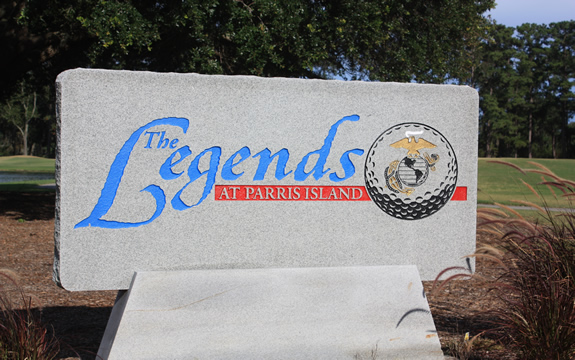 The Legends at Parris Island:
The Shot-Makers Stretch; Holes 8, 9 and 10

The United States Marine Corps is famous for its toughness and bravado with Parris Island being the place where many of America's finest have begun their career in the Corps. Home to 12 gruelling weeks of basic training and the famous "Crucible," Parris Island is also blessed to have The Legends of Parris Island, a Clyde Johnston redesign of the George Cobb original golf course. Highly regarded in military circles, The Legends is wonderfully playable layout featuring rolling fairways, gorgeous live oaks, water and salt marshes throughout. Available for public daily fee play, The Legends has to be on any golf itinerary when it the Low Country.
Course Stats:
Par 72, 4969 - 6898 yards
Daily fee facility
Location:
Beaufort, South Carolina

Editor's Shot Makers Picks:

| Hole 8 | Hole 9 | Hole 10 |
| --- | --- | --- |
| Hdcp #2 | Hdcp #4 | Hdcp #15 |
| Red       312 | Red       435 | Red       132 |
| Gold      353 | Gold      459 | Gold      143 |
| White    393 | White    502 | White    167 |
| Blue      414 | Blue      524 | Blue      181 |
| Black     430 | Black     550 | Black     210 |
Description: This stretch of holes typifies the character of the course, demanding yet providing options for players of all abilities. Hole 8 a lengthy par 4 of 430 yards forces you to contend with a pair of sentinel trees on either side of the fairway at the 100 yard marker. Depending on where you place your tee shot, you could face any type of approach to this deep sloping green. Number 9 is a wonderful risk reward par 5 of 550 yards. Hammer a drive and get presented with options; take a fairway wood or hybrid over the pond to the shallow wide, 3 leaf clover shaped green, or take the safe route and lay up right to have lots of green to work with on your wedge shot. Short is wet and dead. The opener to the back nine is a brute of a par 3 playing 210 yards from the back tees. The tee shot played fully over water to a bumpy well protected green.
Contact:
The Legends Golf Course
Marine Corps Recruit Depot (MCRD)
Parris Island, South Carolina 29905
Phone: 843-228-2240